Soraa launches new MR16 lamps based on third-generation GaN-based LEDs
The latest directional MR16 lamps offer a 30% increase in efficiency and specifically target high-end environments such as restaurants and retail.
Oct 8th, 2014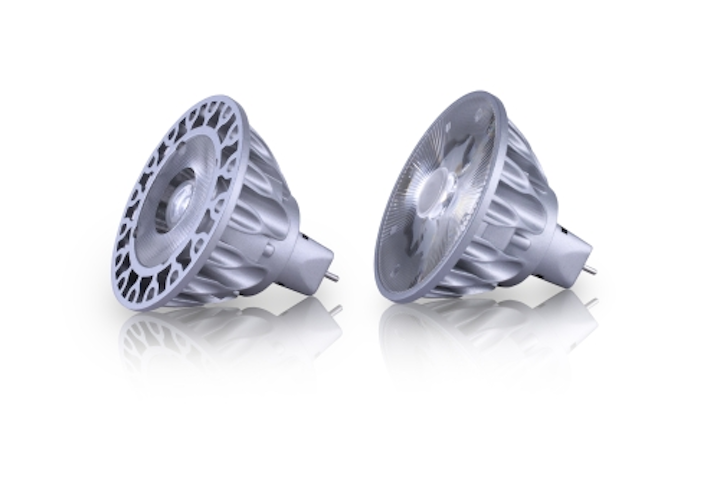 Soraa has announced a refresh of its LED MR16 lamp portfolio based on an upgrade to the company's third-generation gallium-nitride-on-gallium-nitride (GaN-on-GaN) LED platform. Moreover, the company is touting its Point Source Optics technology that includes the combination of the LEDs and unique reflector design to deliver tight beam patterns for such directional applications.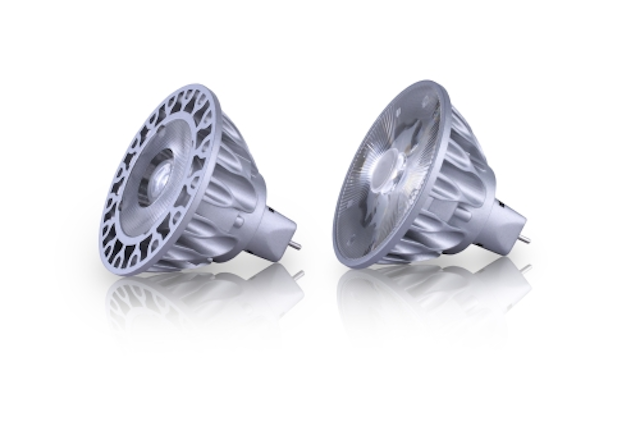 Soraa launches new MR16 lamps based on third-generation GaN-based LEDs
"Our new MR16 LED lamps are hands down the best on the market today," said George Stringer, senior vice president of North America Sales at Soraa. "Not only are they exceptionally efficient and bright, but they also render the entire visible spectrum, making white fabrics and paper goods pop, plastics and smiles whiter, and colors more natural and beautiful."
The story on the new lamps is a continuation of one that has been told in prior articles. Soraa uses a violet emitter and a three-phosphor mix to deliver spectral energy over the full spectrum that humans see. The violet emitter stimulates the optical brightening agents used in white papers and fabrics while the full spectrum results in vivid colors.
But the basic Soraa GaN-on-GaN LED story has always been one about higher current density and more light output enabled by the use of the homogeneous, but costly, GaN substrate. That story dates to the 2012 launch at Strategies in Light. The lower defects attributable to the substrate result in more flux from smaller sources.
Soraa, however, has never been forthcoming with specs on the LEDs used in their products. The article about the color performance linked above did include a die-area comparison with a Cree LED that showed Soraa sources are five times smaller.
Generally, the beam from a smaller source is easier to control and that is part of the Point Source Optics branding. The company also uses what it calls folded prism elements in its reflectors that generate the narrow beam, which is more important in directional applications than is total luminous flux.
The new lamps target replacement of 50W and 75W halogen MR16 bulbs. Soraa offers the lamps with a choice of 2700K, 3000K, 4000K, and 5000K CCTs and a choice of 85 or 95 CRI. Beam angles vary from 10–60°. The new 10° lamps offer center beam candle power (CBCP) of 5710 cd at 2700K and 95 CRI. Lower-CRI and cooler lamps exceed 7000 cd.
Still, Soraa's claims about the new products include 30% greater efficiency. Typically, we measure efficiency as lumens per watt (lm/W) or efficacy in lighting. That measure is not as important in directional applications, yet it is a point of emphasis in market transformation programs such as Energy Star and with organizations such as the US Department of Energy (DOE).
The DOE issued a Caliper report on MR16 lamps earlier this year and noted that efficacy remains an issue with LED-based bulbs in the MR16 category. Moreover, the report said that LED lamps lack the punch to match the CBCP performance of halogen products.
It appears that Soraa's new products have progressed in CBCP. But the efficacy remains in the 52-lm/W range at warm CCTs and high CRI — about the same level as the bulk of the products in the DOE reports. Efficacy in the Soraa portfolio does hit 60–70 lm/W in cooler CCTs with lower CRI specs.