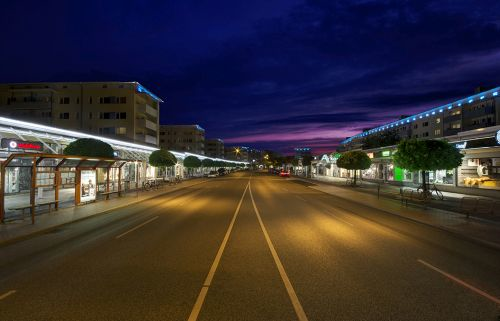 The Arkaden-Die Holtenauer shopping arcade in Kiel now features RGB LED lighting to entice shoppers while Insta lit the Monument Wittelsheim in France with white LED-based architectural light fixtures.
Insta Elektro has announced two separate European LED-based lighting projects. In Kiel, Germany the company supplied fixtures for the lighting of the Arkaden-Die Holtenauer shopping area along both sides of Holtenauer Strasse. In Wittelsheim, near Strassburg, France, Insta supplied pedestal lighting for the Monument Wittelsheim that is a remembrance of the beginning of World War I, 100 years ago.
Shopping arcade
The Kiel project was driven by the Die Holtenauer advertising association to relight Holtenauer Strasse with special attention paid to the many shops lining both sides of the street. Moreover, the project required that the lighting be integral with the residential units behind the shops on each side. The concept sought to make the shops, and their glass roofs, a seamless part of the neighborhood architecture.
Insta Elektro announces LED-based monument and arcade lighting projects
Architectural firm Kersig von Hanneken Architekten, designer Studio DL, and contractor Elektro Lübke partnered o the project. Ultimately the plan centered on using the recessed windows along the top of the residential building to conceal RGB (red, green, blue) color solid-state lighting (SSL) fixtures that could directionally project light onto the arcade and the glass roofs. Additionally, the group installed 200m of linear white LED lighting to highlight the striking white glass roof on the west side of the street.
The products installed include Ledlux luminaires, Instalight lighting control systems, and Ledtrix DMX-based interconnect products. Indeed, the installation allows for dynamic light scenes tuned to events, the calendar, or the whims of the arcade.
WWI monument
In the monument project in France, Insta's partner Soliled supplied the project. Lighting designer Atout Lumière selected Ledlux Linear LK products for the project.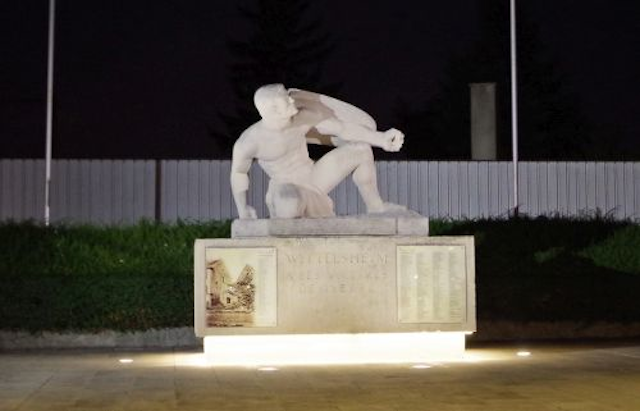 The Ledlux SSL product was favored for several reasons including the ability to connect the fixtures directly to a 230-VAC supply with the drivers integrated in the fixtures. The luminaires deliver high intensity that works well with the high reflectivity of the bright stone used in the monument.
The designers sought to make the monument float in the perception of visitors. The SSL installation delivered on that goal with the luminaire mounted flush in the pedestal.
Insta continues to be involved in innovative LED lighting projects. For example, last year the company supported a project at the Wanne-Eickel, Germany bus station and town square in which the luminaires were installed in the pavement. More recently, the company supplied an energy and ecology exhibition with customized RGB luminaires.