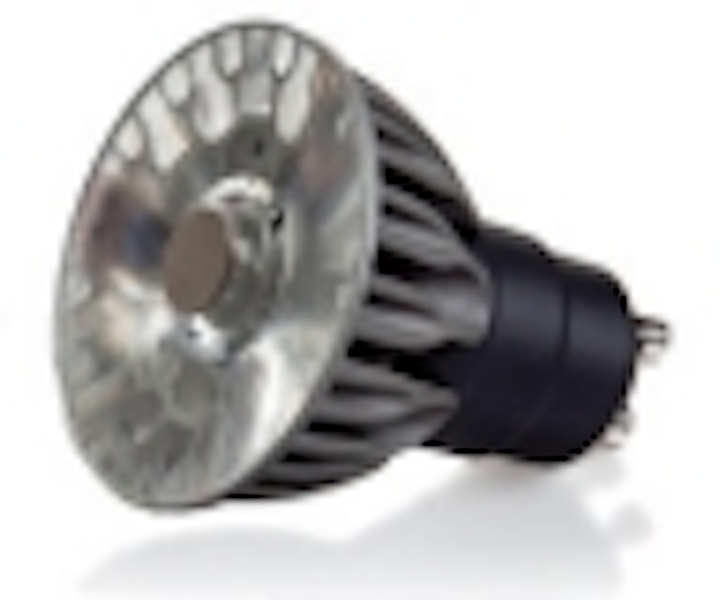 Soraa has announced 230V products in its Vivid 2 and Premium 2 LED-based MR16 retrofit lamp families. The halogen replacement lamps are based on the company's gallium-nitride-on-gallium-nitride (GaN-on-GaN) LEDs that it says produce more flux and render colors more vividly than other phosphor-converted white LEDs. The new products add to the 120V Vivid 2 and Premium 2 lamps announced last October.
The 230V MR16 lamps enable specifiers in regions that rely on the higher-voltage mains to use MR16 lamps without the transformer required in scenarios where low-voltage MR16 lamps have been the only option. The mains-powered Vivid 2 and Premium 2 lamps use a GU10 base, as opposed to the GU5.3 base used on low-voltage lamps, and are often simply referred to as GU10 lamps.
"With our new LED GU10 lamps, customers no longer need a transformer and we've made available beam and output options that were previously unattainable in the market, because of limitations with all other technologies," said Jeff Parker, CEO of Soraa. "Additionally, our products are ideally suited for fully enclosed, non-ventilated fixtures — a place where other LED lamps struggle to perform."
As with its 120V MR16 lamps, the 230V versions come in 10° spot and 25° models. Soraa said that it is alone in offering a 10° beam among manufacturers of either halogen or LED MR16 lamps. Moreover, it says that its 25° version offers higher peak intensity than legacy halogen lamps. The company also offers 36° and 60° models, and all across a range of 2700K, 3000K, 4000K, and 5000K CCT.
The Vivid 2 products are targeted specifically at applications such as retail where color rendering is extremely important. All Vivid 2 products have a CRI of 95 and R9 value of 90. That performance is enabled by the LEDs that combine a violet emitter and a mix of three phosphors that eliminates the blue energy peak associated with many white LEDs and delivers a more uniform spectral power distribution. The high-CRI performance has landed the lamps in a number of high-profile restaurants.
The Premium 2 family is targeted at applications where maximum light output is required. The 10° version has a peak intensity (or center beam candle power – CBCP) of 7760 cd and the 25° has a peak intensity of 2420 cd. Soraa said that CBCP is double what halogen lamps deliver.
"The Soraa GU10 lamps provide unmatched light output, perfectly uniform beams, exceptional rendering of colors and whites, full dimmability, long lamp life, dramatically improved energy efficiency, and excellent compatibility," said Parker. "All these features are made possible through our proprietary GaN-on-GaN LED technology and innovative lamp design."