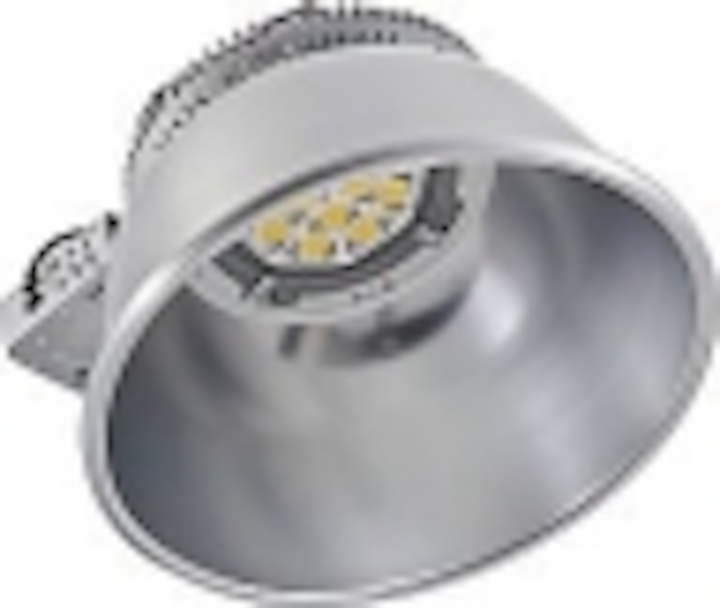 Cree has announced the CXB High Bay LED luminaire — the company's first product in the high-bay sector that is targeted at warehouse, industrial, retail, gymnasium, and convention-center applications. Cree says that in one-for-one replacement scenarios relative to HID or multi-lamp fluorescent fixtures, the new solid-state lighting (SSL) high bay will cut energy usage in half and require little or no maintenance for 70,000 hours.
Cree chose to enter the high-bay sector because of the opportunity in retrofit projects. The US Department of Energy (DOE) has reported that there are 67 million high-bay luminaires installed in the US alone. At this time less than 1% of the installed fixtures are SSL products with the majority being metal halide (MH), and the remainder fluorescent. Cree believes that its LED-based product will win out over the incumbents.
We're coming into the market with the highest lumens per dollar product on the market today, said Greg Dixon, product portfolio manager at Cree. Cree expects the 23,000-lm fixture to sell for less than $400. The luminaire delivers efficacy of 100 lm/W. The CXB product looks very much like a MH high-bay with a 16-in. aluminum reflector. The product has a 4000K CCT and 70 CRI.
Cree said the product is comparable to 400W MH fixtures or six-lamp T5/HO or T8 fluorescent fixtures. Dixon said that the LED lamps can even be spaced at 1.4 times the density of standard 400W MH fixtures in new construction or in cases where a building owner wanted to minimize fixture count.
To illustrate the capabilities of the product, Cree provided two prototypical comparative scenarios each involving 15 fixtures. In both cases the scenario included a 28-ft ceiling, but in one instance the target was 50–60 fc and in the other the target was 20–30 fc. That resulted in 20×17-ft and 30×30-ft spacing respectively. Cree compared the 230W CXB against 400W MH, 400W pulse-start MH, 361W T5/HO, and 222W T8 fixtures. Note that the actual power consumption on the MH fixtures with a ballast is in the 450W to 455W range.
The CXB fixture delivers 56.1 and 24.02 fc in the two target scenarios. That performance is better than the standard MH fixtures and within 2–6 fc of the pulse-start MH and T5 fixtures. The T8 fixture can't meet the minimum fc requirements.
Cree followed up the photometric comparison with a ten-year financial analysis of such a 15-fixture installation. In the MH case, a building owner would need to replace 34 lamps over ten years, incurring $1500 in lamps and labor cost and the inconvenience of disturbing workflow. The LED fixtures would deliver $19,000 in annual energy savings based on 12 hours of use per day and the national average of $0.11/kWh in electrical cost. Cree says that payback occurs in three years. A similar comparison against T5/HO fixtures results in a four-year payback.
While Cree makes a compelling case that the CXB fixture delivers price and performance that makes LEDs competitive with incumbent technologies, the company did not compare the product directly to other LED high-bay products that use different form factors. Many such LED high-bay luminaires use a rectangular form factor and presumably spread the beam far more effectively than the reflector that's designed for an MH lamp.
For example, Digital Lumens uses a rectangular approach to high-bay lighting. And back in 2012 on our LEDs Magazine website we covered a case of a manufacturing plant installing Acuity rectangular high-bay fixtures. Such rectangular products could support installations with fewer fixtures relative to the round MH or CXB products.
Dixon admitted that other form factors can offer advantages and said that Cree is constantly evaluating opportunities for other products. But he said that in the CXB case, Cree found that many building owners will prefer a one-for-one retrofit with no requirement of changing any conduit or wiring, and also no need to repeat photometry tests on the space that has already been proven with the spacing of legacy products.
The CXB products are covered by Cree's 10-year warranty. The luminaires use an array of chip-on-board (COB) LEDs that are covered by a prismatic optic for protections. The light engine and optics are IP65 rated, meaning there can be no dust ingress and the LEDs are protected from water projected from a nozzle. The driver is IP54 rated with limited dust ingress and protection from splashed water.