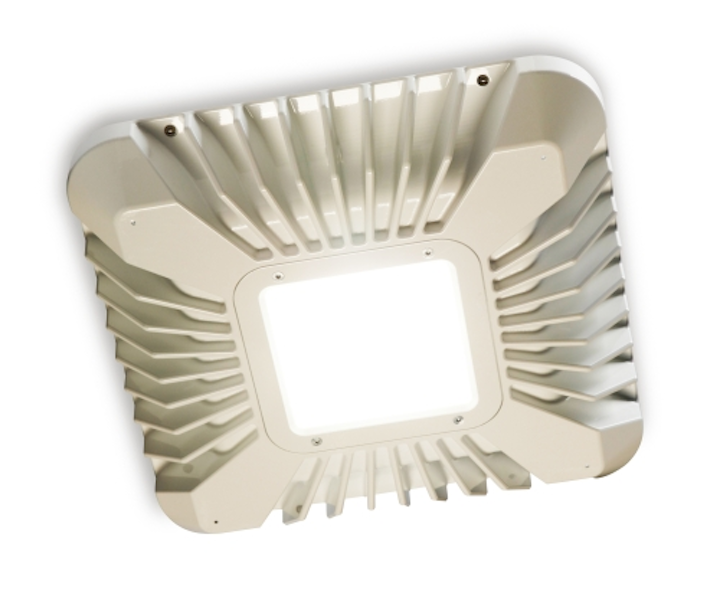 GE Lighting has announced the Evolve LED Canopy ECBA Light with a new configuration that provides glare-free uniform light distribution. Available in 4000-, 8000-, and 13,500-lm versions and in 4000K or 5000K CCTs, the fixture family targets applications such as gas stations, bank drive-through windows, restaurants, pharmacies, and truck stops.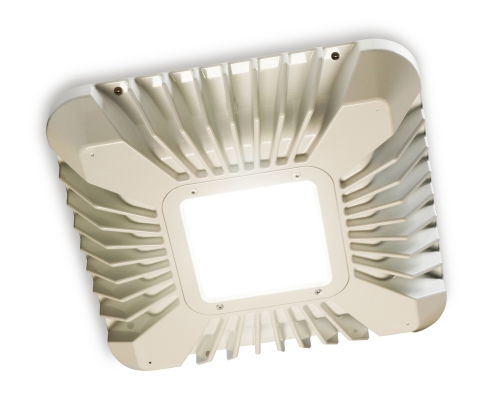 GE Lighting delivers next-generation LED-based canopy fixtures
"GE designed the ECBA fixture to have a recessed light engine and a premium, diffused light source," said Abby Mosher, product manager at GE Lighting. "By having the LEDs recessed within the fixture, combined with GE's reflective optic technology, the light is not pixelated. Rather, it provides an optimal photometric pattern, which provides a uniform, clean light for customers under the canopy."
Looking at photos of the fixture, you may have a tough time visualizing the actual design. The diffuser lens is essentially the lowest point on the luminaire as it is mounted under a canopy. The channels around the periphery that are clearly evident in the nearby photo are designed for air movement and thermal management. Those channels are angled upward from the diffuser or light-emitting surface. GE characterizes the light engine as being recessed, but that characterization is relative to the diffuser and not the surrounding housing.
The new Evolve canopy fixture aligns with a trend that we have been following going back to LightFair International 2013. At that fair, Cree announced the CPY250 fixture that utilizes a diffuser to reduce glare. Prior to that point, most LED-based canopy luminaires exposed the individual LED sources, generally coupled to total internal reflection (TIR) lenses for beam control, because outdoor fixtures need all of the lumens that LEDs could produce and a secondary optic would add losses. The bulk of roadway and parking-area luminaires still expose the LEDs. But the lower mounting height under canopies increases the glare issue and uniform lighting is more important.
GE has approached LED roadway and area lighting with a slightly different approach all along. Products, including the newest Evolve LED Scalable Cobrahead, combine LEDs with both optics and reflectors for beam control.

GE has not released a photo of the internal light engine used in the new Evolve canopy fixture. But a GE spokesperson confirmed that there is a circuit board that hosts an array of LEDs mounted recessed from the diffuser and surrounded by a reflector.
The overall mechanical design is optimized for thermal performance and that allows GE to rate the fixture for 60,000 hours of life to L95 or 95% of initial lumen output. Moreover, the design includes an accessible "power cavity" that allows for maintenance on the driver if required. GE optionally offers occupancy sensing and dimming features.