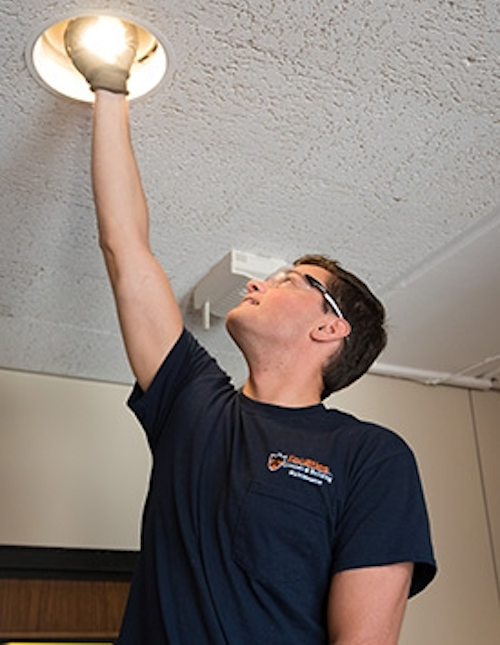 Princeton University has announced the start of a project that will see more than 100,000 fixtures across the New Jersey campus upgraded to LED technology by the end of December 2016. A member of the elite Ivy League of schools that date to colonial American times, Princeton believes that adopting LEDs can contribute 16% to the Princeton Sustainability Plan goal of reducing the campus carbon footprint to 1990 levels prior to 2020.
Princeton University pursues LED-centric campus wide lighting upgrade
Photo by Chris Lillja, Princeton Facilities Organization
"The Lighting Efficiency Upgrade Program can transform Princeton's lighting systems to one of the most modern, reliable, efficient, and environmentally responsible of their kind," said campus energy manager Bill Broadhurst. "The recent progress made in LED technologies also has allowed these projects to be good investments financially."
The university had tested LED lighting in a number of locations over the past few years including parking areas, a gymnasium, and select academic buildings. The project that kicked off in July will cover the entire campus. Already the project has resulted in retrofits in Icahn Laboratory, Fine Hall, parts of the Engineering Quadrangle and 701 Carnegie Center.
A number of universities around the globe are finding that LED technology can both improve campus lighting and reduce costs in terms of energy usage and maintenance. The University of North Carolina has begun to renovate 13 campuses within its system. Dartmouth University reports that a retrofit in its Baker Berry Library delivered 66% energy savings. Moreover, MIT's iconic Great Dome is now lit with LEDs.

In the Princeton case, many of the early upgrades will come in the form of LED replacement lamps as the nearby photo illustrates. But ultimately the project will involve luminaires as well. Indeed, one project completed during trials was a complete retrofit of fluorescent fixtures in the university's Dillon Gymnasium with LED luminaires.
The university is shooting for a baseline 50% reduction in energy use with much of the legacy lighting comprising fluorescent products installed in a prior campus-wide retrofit two decades back. Moreover, the upgrade with longer-life LEDs will allow the university to eliminate the need to properly dispose of 60,000 lamps each year that contain mercury, and five tons of other waste including ballasts.
"In addition to the significant cost savings, revenues, and credits associated with using LED technology, the lighting upgrades also will lower the university's maintenance costs due to LEDs' long expected life," Broadhurst said. "The safety of the Princeton Facilities staff also will be enhanced by reducing the amount of time workers spend climbing ladders to replace thousands of burnt-out lamps each year."