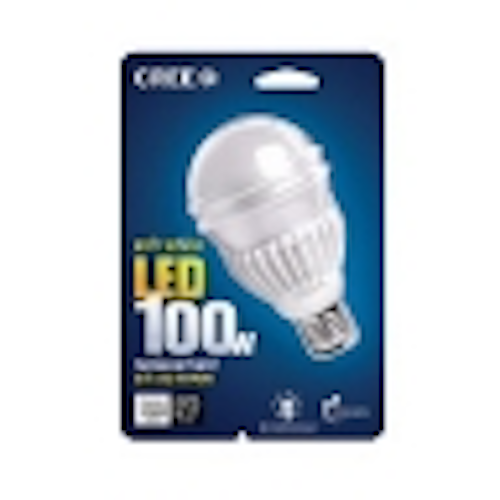 Cree has announced a 100W-equivalent LED lamp in its retrofit lamp family with the new product delivering 1600 lm. Moreover, one year after entering the market for solid-state lighting (SSL) residential lamps, Cree is cutting prices across its A-lamp and BR30 directional lamp product portfolio by as much as 23%.
Indeed, Cree launched the A-lamp products one year ago with 40W- and 60W-equivalent products with the brighter products priced at $12.97 (2700K) and $13.97 (5000K) at Home Depot. Those products are now priced at $9.97 and $10.97 at Home Depot.
The low entry prices, and the fact that the Cree lamp has won mostly very positive reviews, have led the company to a position among the leaders in LED lamps. "This time last year, we reshaped a 100-year-old lighting industry with the introduction of the Cree LED bulb," said Chuck Swoboda, Cree chairman and CEO. "The success of this product has exceeded our expectations, but it is time to push LED lighting to the next level and give consumers even more reasons to switch to LED."
The 100W-equivalent lamp, like the predecessors, is available in a 2700K CCT version that Cree calls Soft White and in a 5000K CCT version that Cree calls Daylight. The lamps are priced at $19.97 and $20.97, respectively, at Home Depot. The 18W lamps are rated for 25,000 hours of life.
"Today we are also addressing the last major product gap for LED bulbs -- the 100W replacement," said Swoboda. "Our industry-leading innovation has delivered the first true 100W LED bulb with the look and performance of a traditional bulb, but at a fraction of the energy consumption."
Swoboda's claims about Cree being first to deliver such as product could certainly be challenged. Indeed, it was Philips Lighting and Osram Sylvania that battled to be the first to deliver a 100W equivalent lamp in late 2012. Osram won the race by a nose. Those lamps both look a bit different than conventional lamps because of thermal features and shape, but do deliver omnidirectional performance.
The Cree lamp does look more like a traditional incandescent lamp, although the base is a bit bulky. Moreover, the Cree product, like the 100W-equivalent products from competitors, is in a A21 form factor whereas 100W incandescent lamps come in the slightly shorter A19 form factor.
Still, the Cree lamp will be able to serve in most sockets in which consumers use incandescent 100W lamps. "The introduction of Cree's affordable 100W replacement LED bulb will provide consumers the benefits of LED technology at a great price that will end up paying for itself," said Mark Voykovic, light bulb merchant at Home Depot. "We continue to strive to bring new levels of performance and pricing in LED lighting to our customers."
Some other notable price drops included with the new announcement impact the 90-CRI TW (True White) lamps announced in September 2013. Those products were launched at $17.97 (40W equivalent) and $19.97 (60W equivalent). Both have dropped by $4, making them far more affordable. Moreover, that price drop is especially important in California where local regulations are limiting rebates to high-CRI products.
There are lesser or no price reductions in the BR30 lamps meant to replace 65W legacy products. Cree launched the BR30 LED products last July at $19.97 (2700K) and $21.97 (5000K). The former price remains unchanged while the latter has dropped to $20.97.