Precision-Paragon lights tennis facility with efficient T5HO fluorescents
Retrofit of 1000W metal-halide fixtures with T5 high-output fluorescent fixtures improves visibility for tennis players and slashes energy use by 50%.
Feb 28th, 2013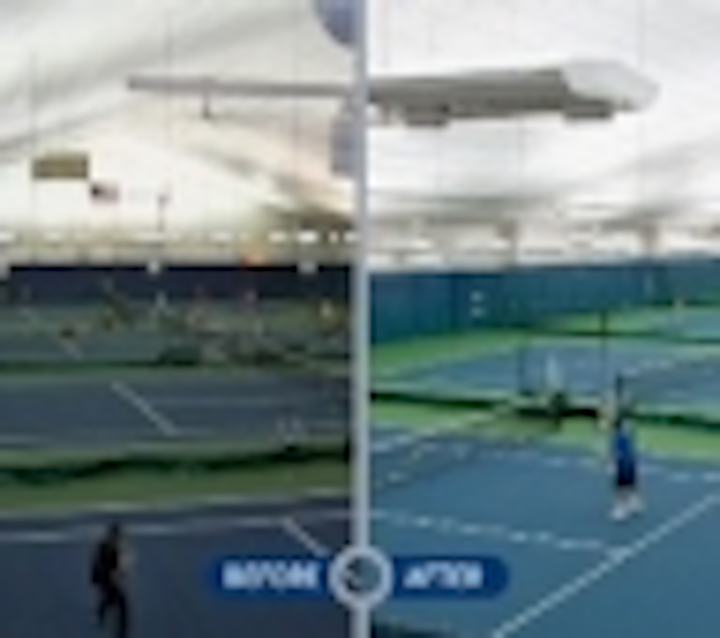 Precision-Paragon (P2) has supplied new fluorescent lighting for retrofit of the Wheaton Sport Center indoor tennis facility near Chicago, IL. Ten-lamp T5HO (high output) high-bay fixtures replaced 1000W metal-halide (MH) fixtures, cutting energy use by about half and resulting in better visibility for the tennis players. Moreover, occupancy sensors control the lights to ensure that the lights are off when a court is not in use.
P2 had to create a custom version of its HFX high-bay fluorescent fixture for use in the tennis center. The fixtures are essentially mounted upside down so that the lamps radiate in an indirect fashion into the ceiling with uniform light reflected down to court level.
About the custom project, P2 outside sales representative Randy Breske said, "There is no one-size-fits-all solution." Indeed, the tennis center had long struggled with uniform illumination on the courts according to Peter Rimbos, a national account sales representative for Facility Solutions Group – the distributor that supplied the fixtures. Breske added, "Addressing the lighting issues inherent to indoor tennis facilities really requires a focused discipline in the creation of a custom-designed fixture."
The existing MH lamps were problematic for a number of reasons. The lighting required frequent maintenance to replace lamps or service ballasts. The new lighting is rated for 40,000 hours of life with 5% lumen depreciation over that period, whereas the HK lighting was rated for 20,000 hours with 30% lumen depreciation.
Still, the project had to provide energy savings for it to be viable. "We are a small, family owned business, so we watch every dollar," said Karla Butler, Wheaton Sport Center sales and marketing director. "But, we're also concerned about our carbon footprint. We really do care about the environment and the efficiency of energy in our club."
The new 584W fixtures replaced MH fixtures that used about 1080W including the ballast. "We reduced energy consumption by about 22 kilowatts, and 180,000 kilowatt hours," said Breske.
The result of the project has also been noticeably better lighting. The project was handled one court at a time, so the other courts were open for play. During that installation period, Butler said about the club members "They all wanted to play on the courts with the new lighting." The light levels were increased 32% on average as the nearby before and after photo shows.
Butler believes that the club will recover its investment in about two years based on energy and maintenance savings. The club was also able to receive $13,000 in incentives from the local utility Con Edison.