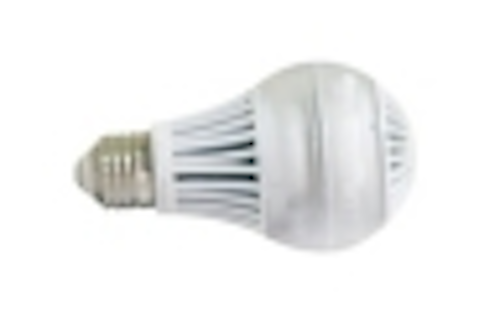 Lighting Science Group (LSG) has announced two new LED-based lamps that were specifically designed to mimic the shape and look of traditional Edison incandescent lamps. The Definity Professional A19 lamp features omnidirectional performance while the Definity Professional GP19 performs similarly to the so-called snow-cone type LED lamps radiating light upward, although the look is purely conventional, with no evident heat sink.
As has been noted many times, lamp manufacturers have adopted many strategies in trying to adapt LED sources for use in incandescent replacement lamps. We recently ran a feature article on the diversity in design in our LEDs Magazine publication.
The LSG A19 lamps range in efficacy from 67-71 lm/W based on color temperature LSG offers the lamps with a choice of 2700K, 3000K, 4000K, and 5000K CCTs – all with a CRI of 82. Lumen output ranges from 800-850 lm, making the 12W lamps a capable replacement for 60W incandescent lamps. LSG also offers a similar 8W product to replace 40W incandescent lamps.
The lamp design appears to mount the LEDs on a planar circuit board located at the equator of the bulb – with LEDs radiating both up and down to provide the omnidirectional beam pattern. Energy Star recognition requires omnidirectional performance in LED A-lamps. LSG said that the A19 is designed to meet Energy Star requirements and that it expects to complete qualification for the A19 in April.
LSG says that the new A19 is rated for 25,000 hours of life – twenty five times the life of a typical incandescent lamp. The lamp is dimmable down to 5% of full output. The A19 does include an evident heat sink, although it is implemented with a white-colored thermal material that LSG calls CoolPoly.
Definity GP19 lamp
The Definity GP19, meanwhile, doesn't have an evident heat sink, although the bottom half of the lamp is made from the CoolPoly material. The lamp is the equivalent of a 40W incandescent delivering 450-480 lm depending on color temperature over the same 2700K-5000K range.
Efficacy for the 6W GP19 ranges from 75-80 lm/W. The CRI is 82. LSG rates the GP19 from 50,000 hours of life. And it is also dimmable to 5%.
"Consumers have been asking the LED industry for bulbs which more closely replicate the form and function of a traditional Edison bulb," said Jeremy Cage, CEO of LSG. "These new lamps represent that, and much more—they are highly efficient, emit a beautiful light, contain no mercury and are a strong LED value. These lamps make every room more beautiful with their lighting quality."