Global Lighting offers hand-painted Maris Montone chandeliers
The LED-based fixture combines modern efficiency and aesthetics with the iconic blue patterns from the Delftware pottery that's been made in Delft, Netherlands since the 1500s.
May 23rd, 2013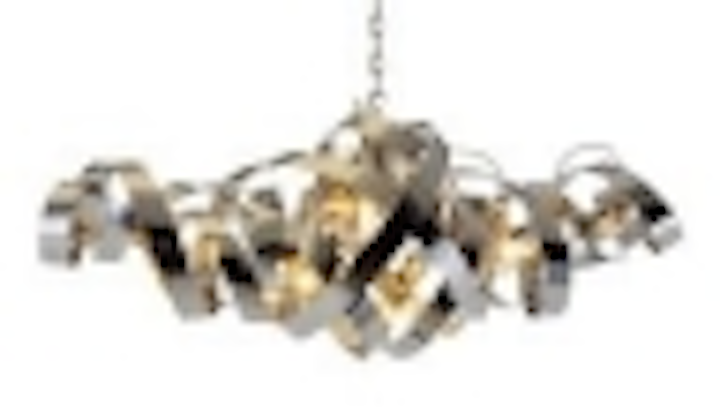 Dutch lighting fixture designer Jacco Maris is producing hand-painted versions of his Montone stainless steel, LED-based chandelier, which is being distributed by New York-based Global Lighting. Maris is collaborating with artists Frank De Wit and Ben Quaedvl to create Delft versions of the fixtures that carry the blue patterns from the famous Delftware pottery created in Delft, Netherlands for five centuries.
Maris makes the Montone chandeliers by hand in his Breda, Netherlands studio. The fixtures are available in oval (pictured), round, and triangular shapes. The Italian name was inspired by the triangular fixture, presumably because it resembles a ram's head or "Montone" in Italy.
The Montone fixtures are generally available in stainless steel, high-gloss stainless steel, high-gloss black, white, and brass versions. Maris had the idea of painting the fixtures while experimenting with finish on the metal strips.
"With a white powder coating the strips start to resemble ceramic," said Maris. "Everyone here in the Netherlands remembers their very first sip of coffee from our grandmother's Delftware cup; it is ingrained as one of our earliest childhood memories. We wanted to create the paradox of an entirely modern fixture, painted with a poignant design, one which we all carry around in our hearts."
The fixtures come in a range of sizes. For example, the oval version is offers in widths of 43.5, 57.25, and 71 in. Across that breadth, the fixture integrates either 6, 8, or 10 lamps.
Maris installs 2W LED G9 retrofit lamps in the fixture that operate from line voltage. The G9 is a 2-pin or bi-pin lamp with a 9-mm pin spread that you might find most typically in a halogen version. Such halogen lamps might consume 40W.
Global Lighting president Larry Lazin believes the mix of modern design and history works well. "Adding a historical context to a contemporary fixture creates an unabashedly romantic story," said Lazin. "Just as Delft became a rage in the 17th century, it is now experiencing a tremendous revival in fashion, textiles, and design. By looking to his culture for inspiration, Maris is continuing to create new works that are rooted in the rich traditions of the past."