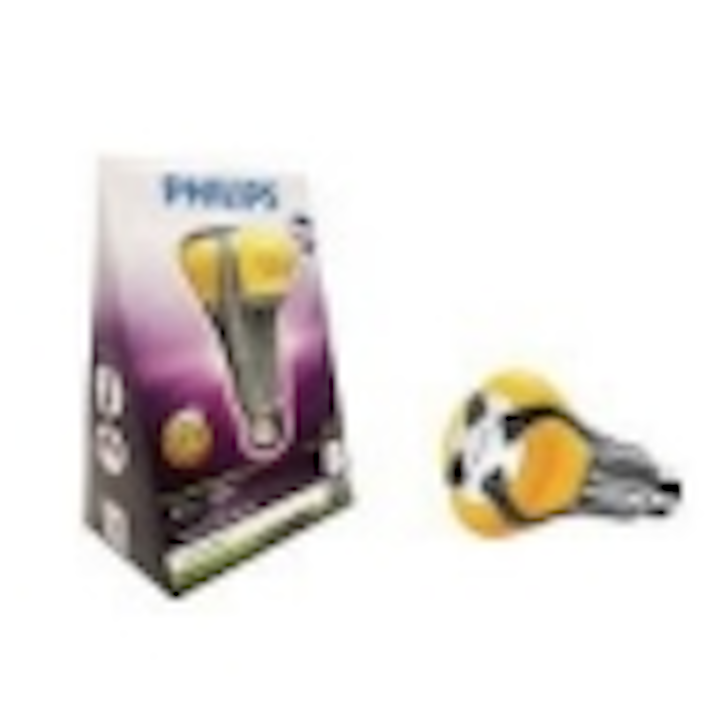 Philips Lighting has announced that their 100W-equivalent LED A-lamp that began shipping in December is the first such lamp to receive Energy Star qualification. The company's Ledalite brand announced a new solid-state lighting (SSL) alternative to linear-fluorescent lamps than can reduce baseline energy usage by 28%.
Philips and Osram Sylvania went down to the wire in a race to see which company would first bring to market an LED-based A-lamp that could effectively replace 100W incandescent lamps. Osram won that race by a nose shipping its product in mid November, followed by the Philips remote-phosphor design coming to retail December 1.
Apparently, however, Philips has been first to get a 100W-equivalent through the Energy Star process with its 22W A-21 lamp. The design delivers 1780 lm and is rated for 25,000 hours of use. Energy Star requires that a 100W-equavlent lamp output 1600 lm, offer a CRI of 80, and have a 25,000-hr lifetime.
"Once again we have demonstrated that customers do not have to wait for alternatives to incandescent bulbs or sacrifice their light output or quality because LED technology can deliver real business benefits without compromise," said Ed Crawford, general manager of lighting systems and lamps for Philips. "The Philips LED 22W bulb is the next natural addition to an LED retrofit portfolio that already offers 88 Energy Star rated products, ensuring that our customers are getting a product that delivers the quality and innovation they have come to expect from us."
BoldPlay SSL luminaire
Philips Ledalite, meanwhile, announced the new BoldPlay LED luminaire that targets commercial buildings and replacement of the ubiquitous fluorescent fixture and lamp. Moreover, Philips is offering adaptive-control technology in the new product line that can stretch energy savings by automatically dimming or extinguishing the LED lighting based on ambient light conditions. The company expects the fixtures to fns usage in retail, healthcare, education, and office environments.
The BoldPlay fixtures deliver efficacy of 106 lm/W – 44% greater than fluorescent lighting according to Philips. Philips offers a choice of 3400- or 4800-lm options in a 4-ft module. The company said that the light output and distribution supports row spacing as great as 20 ft, while maintaining uniform light levels.
The suspended fixture design provides direct and indirect light via Philips' MesoOptics technology. The optics use holographic-like nano structures to both spread indirect lighting for a uniform ambient experience and to direct light onto the task plane.
For adaptive-control scenarios, Philips offers Response Daylight sensors that can sense daylight and allow for a reduction in the light level that the LED fixtures generate, and energy used. The company said that the controls can extend energy savings an additional 35%. The fixtures can also be equipped with Philips Airwave wireless-network-based controls. Both the sensors and wireless link operate from solar-harvested energy.
"Most buildings use lighting technologies that date back to the 80's, yet as organizations look to become more green, while trying to provide a better work environment, lighting upgrades become an obvious choice," said Don Jacklin, director, product management for Philips Ledalite. "Not only does a system like BoldPlay offer significant energy savings and better light quality than traditional lighting systems, it can sense the ambient light in a room and adjust itself accordingly. Accompanying Airwave occupancy sensors harvest that ambient light to power themselves and adjust the lighting in the room based on whether or not there are occupants. BoldPlay makes energy efficiency intuitive and with its ease of installation, adopting LED technology has never been simpler."