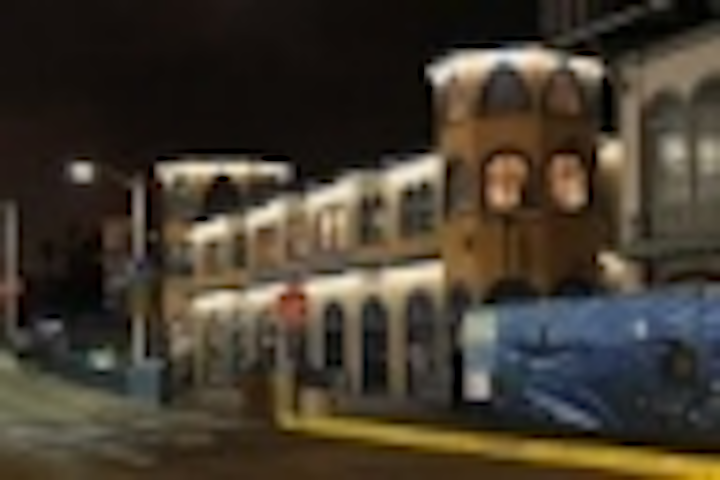 The 97-year-old Santa Monica Pier and Boardwalk, on the Pacific coast in Santa Monica, CA near Los Angeles, has installed LED lighting on the outside of some structures and in post-top lighting along the pier and boardwalk. LEDtronics reports that the project is already delivering 30% energy savings and will also reduce maintenance costs and provide better lighting for safety with less light pollution.
The project entailed a number of LEDtronics solid-state lighting (SSL) products. For example, 1.3W S14 retrofit lamps were installed in place of 11W incandescent lamps in multiple layers ringing architectural elements of the Looff Hippodrome. Named for designer Charles Looff, the Hippodrome houses the iconic wooden carousel among other things.
"Now that the necklace lights on the carousel building have been replaced with LEDs, there are no gaps, they give off a nice, bright glow, and the colors really bring out the colors on the building," said Jim Harris, deputy director of the Santa Monica Pier Restoration Corporation. "We won't need to change these bulbs for years, and the LED lamps added to the rest area and Boardwalk outside of the building increase security and provide a well-lit area for people to relax and enjoy the sights and sounds of the Pier."
Indeed the savings with the Hippodrome lights is near 80%, although some of the other parts of the retrofit delivered less savings. However, the pier and boardwalk upgrade comes with much better lighting and better light control as evidenced by Harris' statement.
LEDtroincs supplied two different pendant-style retrofit luminaires that are suspended on decorative posts. For seating areas, 20W LEDs replace 50W and 70W metal halide (MH) and high-pressured sodium (HPS) lamps. Along the walkways, 27W LEDs replaced 150W MH lamps. The project also included some LED A-lamps installed in inaccessible locations as beacons around the perimeter of the pier.
"With the new LED lamps in place, maintenance is minimal, and we have already reduced energy consumption by over 30%," said Matt Henigan, energy efficiency engineer with the City of Santa Monica, Office of Sustainability and the Environment. "And because the LED lighting is directional, it improves safety and enhances the Pier's appearance without causing light pollution for local residents."