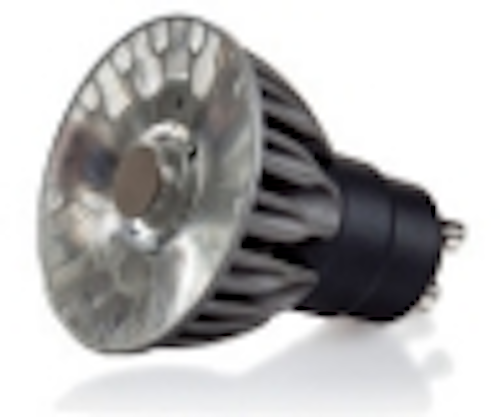 Soraa has announced MR16 LED lamps with the GU10 base designed to obsolete halogen incandescent lamps. The AC-line powered solid-state lighting (SSL) products come in 10° spot and the more typical 25° versions. The lamps deliver excellent color rendering with a CRI of 96 and an R9 score of 95 for the saturated red color sample.
From a performance perspective, Soraa believes the lamps outperform the legacy halogen lamps. The broader-beam version has a center beam candle power (CBCP) specification of 2140 — double the power of typical halogen lamps. You can't buy a 10° halogen lamp, but Soraa's LED version has a CBCP of 7120 cd.
And now you can utilize Soraa's MR16 lamps connected directly to 120 VAC. "With our GU10 versions, you no longer need a transformer and we've made available beam and output options that didn't previously exist in the market, because of limitations with all other technologies," said Tom Caulfield, president and COO of Soraa.
"Making Soraa's wonderful light available in a GU10 base solves a lot of problems for users — transformer compatibility, for instance. It also makes it easier to install in homes, reducing overall installation and fixturing costs," said Randall Whitehead, a lighting designer and author. "I'm thrilled that I can get that beautiful light in a mains voltage product."
The performance is enabled by Soraa's in-house LED technology that relies on gallium-nitride (GaN) semiconductor layers grown on homogenous GaN substrates to support higher current densities. Moreover, Soraa uses a violet LED with a three phosphor mix to realize a broader, more uniform spectral power distribution.
"Our products provide you unmatched light output, beautiful beams, unprecedented rendering of colors and whites, full dimmability, long lamp life, dramatically improved energy efficiency, and excellent compatibility," said Caulfield. "All these features are made possible through our proprietary GaN on GaN technology."