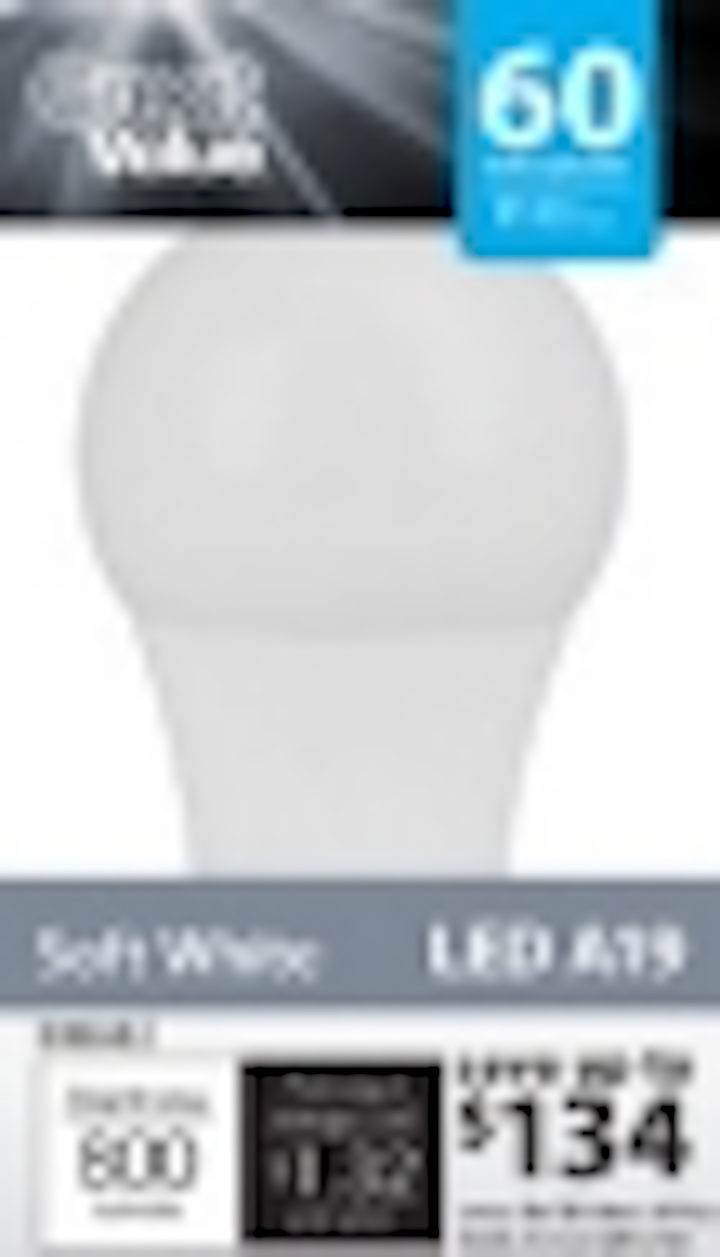 The price for a 60W-equivalent LED light bulb has dropped below $10 with Walmart's launch of the house-branded Great Value line of solid-state lighting (SSL) retrofit lamps. The retailer has also announced plans to sell a dimmable GE Lighting 60W-equivalent lamp for under $11.
The Great Value LED line will initially include 26 different LED lamps. There are already 21 of the products listed on the company's website with most already available in stores. The 800-lm 60W-equivalent products are priced at $8.88 for a non-dimmable version and at $9.88 for a dimmable version.
The company is offering the Great Value lamps in Soft White and Daylight versions, presumably referring to warm- and cool-white versions — although the company is not publishing detailed CCT specs or CRI on their website. Presumably, the lamps will have a Lighting Facts label in store that will provide full details.
The 60W-equivalent lamps dissipate 11W and are rated for 25,000 hours of use. Other examples from the product line include 65W-equivalent BR30 flood lamps that deliver 650 lm from 12W. The non-dimmable version cost $14.88 and the dimmable version cost $15.88.
Walmart released no details about the internal design of the lamps or the LEDs used in the products. We will be providing some of that information once we get a lamp in hand for testing.
GE lamps at Walmart
Meanwhile, GE Lighting and Walmart are continuing to partner in lighting products. Back in August, GE announced plans to expand US manufacturing of more-efficient halogen-based incandescent lamps. And Walmart said at the time that it would stock the halogen line in 3400 stores next year.
Now Walmart is also planning to carry the lowest-cost GE LED lamp yet offered at retail. For now the companies have not said when the lamps will be available but that a 60W-equivalent, dimmable A19 lamp will sell for less than $11.
"GE and Walmart have worked in close concert for more than a decade to pioneer new applications for commercial LEDs," said John Strainic, general manager of consumer lighting at GE. "We've taken the good collaboration we've made with Walmart to increase the energy efficiency of their facilities, and are beginning to make the same in-roads in the consumer lighting aisle."
Up to now, it's primarily been Cree and Philips leading the drive to lower prices for LED retrofit lamps. Those competitors went under $15 for 60W-equivalent products back in March. At that time Philips promised a sub-$10 lamp this year. Now they have more competition.