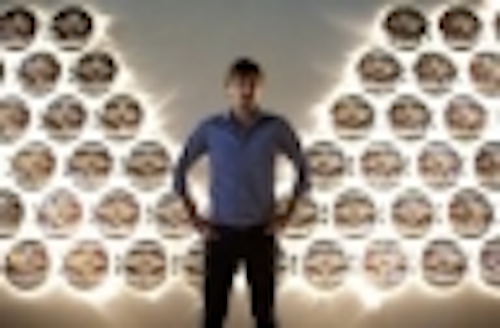 Sometimes lighting innovation comes from surprising places and 3M's Architectural Markets division will have strikingly different approaches to LED-based lighting on display at the NeoCon 2013 exhibition in Chicago next week. The demonstration will include a planar, customizable fixture system called Flex, a new lighting concept called Sheer, and the Lightfalls concept by New York designer Todd Bracher that is nearing commercialization.
The Lightfalls design is especially interesting because it uses a single LED source in one fixture or lighting element that is reflected into neighboring elements to provide a large decorative lighting installation from a single power source. 3M and Bracher refer to the technology as using Virtual LEDs because only the single fixture includes a powered source.
The shape of the Lightfalls elements, which have been called spheres although the shape is far more complex, was dictated by the physics of reflecting the light from the LED point source. Bracher has said that the concept is only possible with the 3M film used in the elements that is 98% reflective.
The name Lightfalls presumably refers to the lighting effect produced by the design. 3M said it produces "beautiful cascading light that creates a highly aesthetic effect on walls and ceilings."
Bending planar lighting
The Flex technology, meanwhile, is a new approach to planar lighting. It uses LED sources and light guides to produce planar diffuse light. But the 3M materials allow for both custom geometric systems that are parallel to the floor and ceiling, along with the ability to bend light through guides that curve into a perpendicular manner relative to the floor.
3M has not released details about the new Sheer concept. But the company says that it uses a reflecting technology and that it delivers both efficient and crystal-clear light.
NeoCon is an annual event focused on interior designers and architects. The show will run June 10–12 at The Merchandise Mart in Chicago.