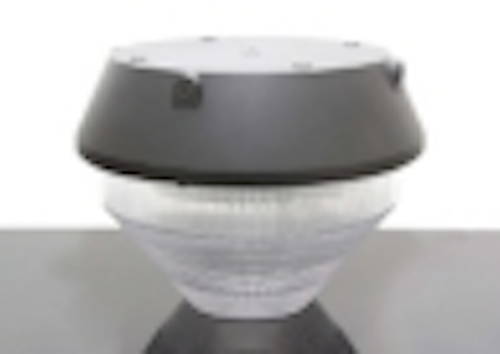 So often we focus on LED-based products when we discuss lighting that offers serious energy savings, but induction lighting can deliver significant savings as well, as witnessed by the new MaxLite Induction Canopy Luminaire. The product also matches solid-state lighting (SSL) lifetime expectations with a 100,000-hour rating.
MaxLite is offering the family in a 40W MLSM40IND50 fixture that delivers 2800 lm at a 5000K CCT, and in an 80W MLSM80IND50 fixture that delivers 6400 lm at the same CCT. The company says that the products can replace 175W and 250W metal-halide (MH) fixtures, respectively.
The efficacy comes close to LED lighting at 70–80 lm/W, although the best SSL products are a bit better. "Our Induction luminaires highlight MaxLite's capability to utilize a proven technology that delivers high efficacy and an extraordinarily long life," said Pat Treadway, MaxLite vice president of product marketing and engineering.
Induction technology is very similar to fluorescent lighting except the former doesn't use external electrodes to deliver power into the lamp. Instead, a generator radiates electromagnetic energy at a high frequency that produces UV energy, which in turn excites a phosphor coating to generate white light. Eliminating the electrodes generally results in a more reliable lamp.
You can't focus light from an induction source the way you can LED point sources. Indeed, at the Street and Area Lighting Conference (SALC) a year ago, lighting designer and outdoor lighting expert Nancy Clanton said the technology produces a "blob of light." But Clanton also said that a blob of light is a good idea for many area-lighting applications such as in parking garages. We will be at SALC 2013 next week. It will be interesting to see any further discussion of legacy sources relative to LEDs.
MaxLite clearly sees a customer need for the product because the company makes plenty of LED-based alternatives. Treadway added, "The fixture is extremely efficient and delivers very high output for increased security and visibility in high traffic areas."
The rated life and 10-year warranty coverage are certainly competitive with top SSL products. The products also come with a CRI of 80–84 and operate over similar temperature ranges to LED-based fixtures. We assume the product is not dimmable as such a feature is not mentioned on the MaxLite data sheet and induction lighting in general is far less amenable to controls than are LED-based fixtures.