AWeber wins LEED Gold using Lutron adaptive controls and daylight
Communications firm installs a networked lighting system in their headquarters that makes use of daylight harvesting with floor-to-ceiling windows and automatic shade control to eliminate any glare issues.
Nov 6th, 2013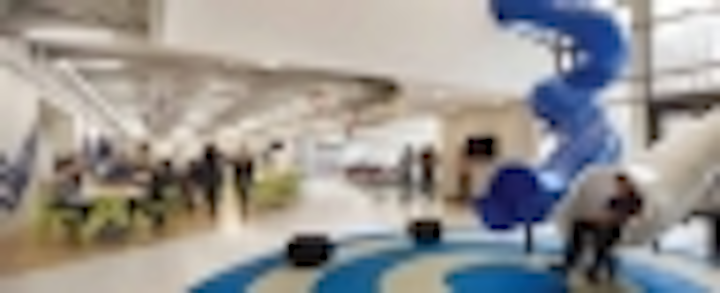 Lutron has announced a new adaptive-control lighting project at AWeber Communications in Chalfont, Pennsylvania that ultimately enabled the firm and Wulff Architects to achieve LEED (Leadership in Energy & Environmental Design) Gold recognition. The communications agency's retrofitted headquarters makes use of daylighting combined with Lutron wireless sensors and automated shade control to optimize lighting for both employee comfort and optimal energy savings.
The 71,000-ft2 headquarters is very much an open space that encourages collaboration and offers employees the opportunity to be creative in a fun environment. The lighting control system was intended to enhance that philosophy.
The installation utilizes daylight from floor-to-ceiling windows as well as occupancy sensors that connect wirelessly to a central control system that can dim or extinguish artificial lighting based on the conditions at hand. The system can be controlled or customized via an iPad app.
While daylighting is increasingly recognized as a core component in energy-efficient commercial buildings, sunlight can cause glare issues. Indeed, watch for a feature article on daylight autonomy that Lutron contributed to the next issue of Illumination in Focus that is due out next week. That articles detail the potential issues such as glare.
One way to mitigate glare is automatic shade controls that work in conjunction with the daylight sensors. At AWeber, Wulff Architects installed Lutron Sivoia shades that include what Lutron calls adaptive solar technology. The idea is that the shades can respond to real-time changes in natural light such as cloud cover or the sun passing behind a nearby building and then re-emerging. The shades adapt to allow optimal glare-free daylight and to minimize HVAC costs.
Prior to the retrofit, AWeber's employees had complained about glare and inconsistent light levels. "If you have to think about how you feel in your office space, that affects productivity," said Mike Flanagan, senior facilities manager at AWeber. That prior experience led to the new adaptive-lighting system.
"The most important thing that I can tell you about the lighting in our new space is that I never hear anything about it from team members," said Flanagan. "When our people are comfortable, they are productive, and that's our goal."
AWeber had hoped to achieve LEED Silver status with the project. The Lutron Quantum Total Light Management system enabled the project to win LEED points in three different categories. Lighting electricity usage has dropped from 242,830 kWh to 166,489 kWh, with 70% of that reduction attributable to the adaptive-control system.