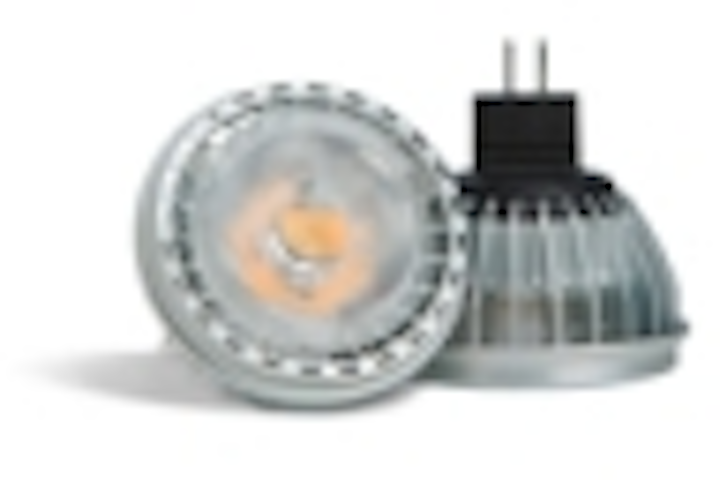 Cree Lighting has entered the MR16 retrofit lamp market with the LM16 LED-based products that offer equivalent output to 35W and 50W halogen lamps and that are offered in 17°, 25°, and 40° beams. Meanwhile, for its modular solid-state lighting (SSL) product line, Cree announced a driver compatibility program.
Cree says that the new 25° MR16 lamps offer the industry's highest center beam candlepower (CBCP). The 35W equivalent has a CBCP of 1995 cd, and the 50W equivalent as a CBCP of 2650 cd.
The CBCP performance is enabled by the fact that the lamps use a single Cree MT-G2 LED. The small source size allows for more precise beam control.
"Cree's revolutionary design provides optimal control of the beam angles to direct the light exactly where it's needed," said Roger Lane, principal with Lamps Inc. "They've effectively eliminated surface glare and have even added a pleasant touch of backlight that is soft on the eyes while saving energy. Cree's latest innovation can help any business improve their lighting as well as their bottom line. This is a real bonus for lighting and maintenance contractors."
Application flexibility
With the choices of beam angle, the LM16 product family can serve in spot-, flood-, and wide-flood-light applications. The 50W-equivalent lamps deliver 620 lm while consuming 9W while the 35W-equivalent lamps deliver 425 lm while consuming 7W.
Cree did not reveal a price at the time of the announcement, but said that the lamps will deliver payback in 12 months based on energy savings. The lamps are designed to last for 25,000 hours.
The LM16 lamps offer a color temperature of 3000K and a CRI of 83. Cree says that the lamps work with a "broad range of transformers and dimmers" although as we have covered previously, electronic transformers have proven problematic for some LED-based MR16 lamps.
Driver compatibility
In a separate news release targeting luminaire designers, Cree announced a driver compatibility program for its modular LED light engines. Previously, Cree limited warranty coverage of its modular products to designs that utilized a Cree driver. Now product developers will have access to a wider variety of drivers.
The driver program kicks off with the release of a compatibility list for the Cree LMH2 modules. More details on the driver program are available in a story on our LEDs Magazine website.