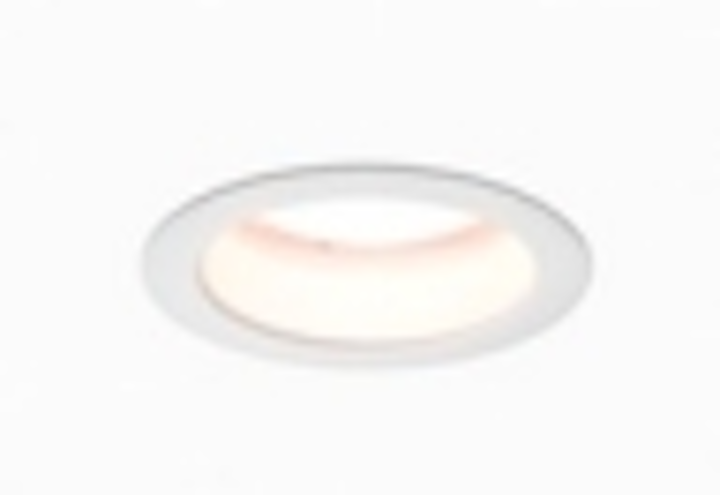 Cree Lighting has announced the 1000-lm LR6-10L LED downlight that the company says can deliver 50% energy savings relative to incumbent compact fluorescent (CFL) downlights. The 6-in design achieves the energy efficiency using Cree TrueWhite technology that yields products with warm and neutral CCTs and high efficacy, thereby enabling sustainable lighting designs.
"When you consider the industry-leading efficacy, energy savings and long lifetime, I see no reason to specify a CFL or incandescent downlight again," said Greg Merritt, vice president of lighting at Cree. "The latest Cree LR6 downlight showcases what's possible with LED lighting."
Cree is offering the new downlight in a choice of 2700K, 3000K, 3500K and 4000K CCTs. Efficacy, meanwhile, is 90 lm/W. The TrueWhite technology features a mix of red and amber LEDs that can deliver the warmer CCTs while maintaining high efficacy. In LED-based products that solely use phosphor-converted white LEDs, efficacy suffers at warmer color temperatures.
The downlights deliver 1000 lm and a high CRI of 90. Cree warranties the products for ten years and rates the products for 50,000 hours of usage. The downlights are designed to work with legacy triac, or phase-cut dimmers with smooth dimming down to 5% of full output according to Cree.
The new downlights can be installed into 6-in recessed housing from Cree and other manufacturers. The mechanical design includes a retention feature that allows it to be easily slipped into the housing after the electrical connection is made. The 11W products are Energy Star qualified.