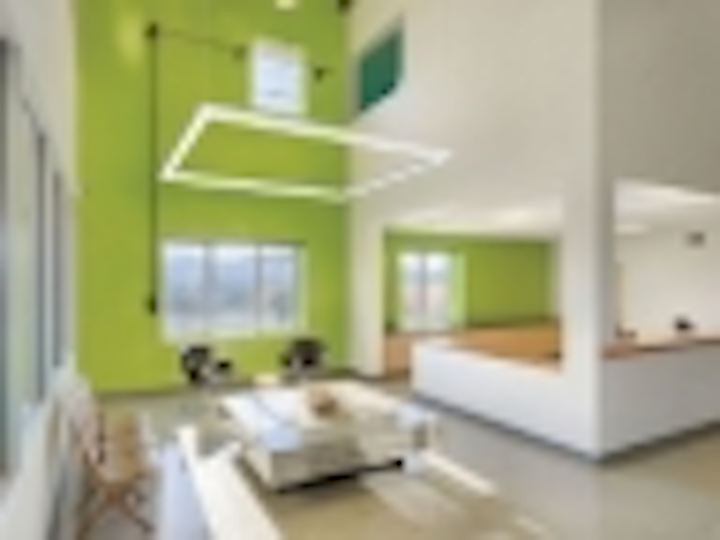 The Peerless brand from Acuity Lighting has announced a new linear LED fixture family called Round 4, and the name implies the shape of the sleek 4-inch cylindrical luminaires. Designers and specifiers can cascade the solid-state lighting (SSL) products and connect fixtures in rectangular patterns with an L-shaped connector that provides seamless illumination in corners as depicted in a nearby photo.
Peerless will offer the luminaires in both suspended and wall-mount versions in 4- and 8-foot lengths. The fixtures can be specified in direct, indirect, and direct/indirect versions — the latter has LEDs that shine both upwards and downwards as shown in a nearby photo.
All of the family members feature continuous lenses that extend the length of the housings and that produce even, glare-free light. The optics are based on Peerless' Softshine technology. "The Peerless Softshine process scientifically shapes the light output from our luminaires to provide best-in-class distribution and performance," says Peerless value stream manager and lead product developer Kai Jaffe. "In the case of the Round 4 LED luminaires, carefully designed injection-molded optics produce indirect illumination that is flat and broad across the ceiling in batwing distributions with no hot spots and direct illumination that cuts off high-angle glare."
You can specify lumen packages ranging from 2600–6000 lm, and a choice of 3000K, 3500K, or 4000K CCT. The fixtures come in white and aluminum finishes and are rated for 50,000 hours of life. Acuity backs the products with a five-year warranty.
Peerless leveraged driver and control products from other Acuity Brands to ensure that the fixtures use minimal energy and that controls can enhance the savings. The fixtures integrate a 0–10V dimmable driver from EldoLED, a company that Acuity acquired earlier this year.
Control options include simple occupancy and ambient light sensors. Optionally, you can specify the products with the nLight digital controls from Acuity's Sensor Switch brands that allow fully networked scenarios with Cat-5 wiring connecting the fixtures.
Peerless also offers Acuity's digital lumen management technology as an option, which slowly increases lumen output over time to account for lumen depreciation. That option also adds to energy savings early in the product lifetime because the luminaire is automatically operated below maximum drive currents.