Cree delivers sub-hundred-dollar residential LED streetlight
The XSPR SSL fixture is designed to replace 100W legacy light sources in residential roadway applications, bringing payback to less than one year.
Aug 8th, 2013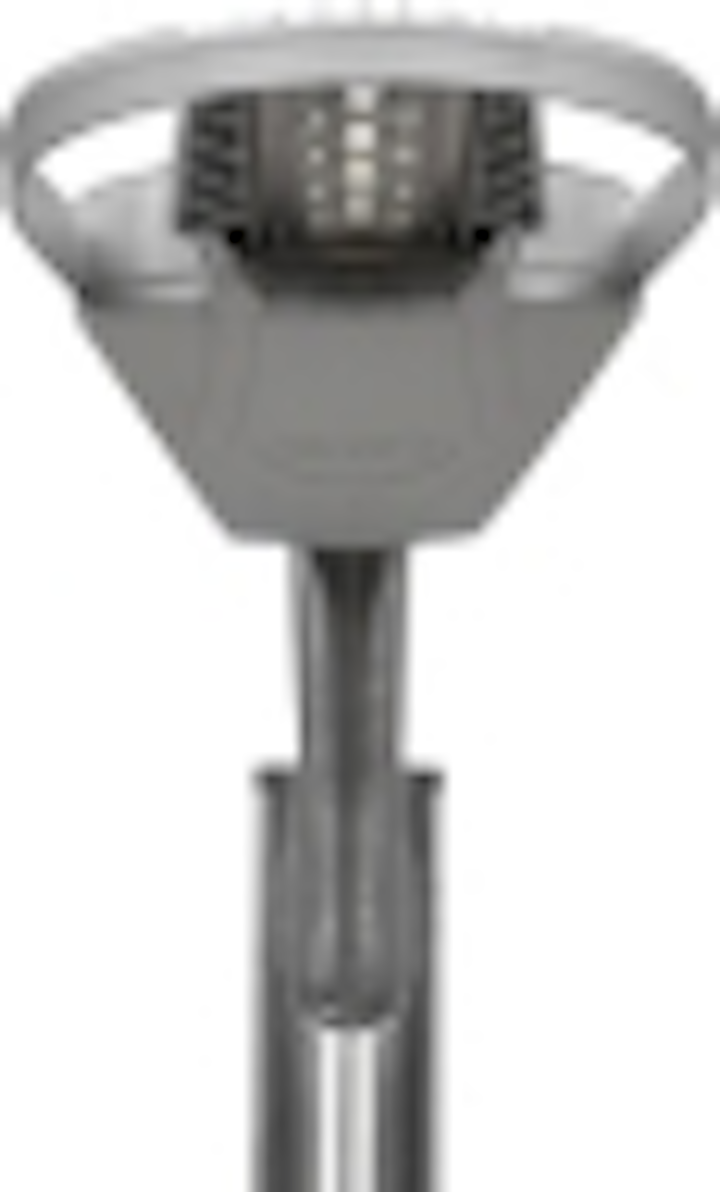 Cree Lighting has announced the XSPR family of LED streetlights for residential applications at a price point of $99. The 25W–42W solid-state lighting (SSL) fixtures can replace up to 100W legacy lights such as high-pressure sodium (HPS) fixtures, generally delivering a 63% reduction in energy use.
The low price of the XSPR could make the decision on a transition to LED lighting on residential streets a given with upfront cost no longer an issue. Cree says that the fixtures will deliver payback in one year based on the national average electrical cost of $0.11/kWh.
The city of Raleigh, NC, adjacent to Cree's home base in Durham, has been an early adopter of SSL technology, especially in outdoor applications. "This breakthrough technology can change the total cost of ownership equation, encouraging municipalities to transition sooner to LED with less risk, and redirect resources to other important community needs," said Dan Howe, assistant city manager of Raleigh. "Streetlighting is our city's largest single energy-related cost, and the XSPR streetlight appears to dramatically change the economics of LED relative to traditional lighting technologies."
The XSPR also appears to achieve the low price point with no compromise in the quality of the LEDs used or in the system design. Clearly Cree is using similar driver and thermal technologies to what it uses in other more expensive products because the company is offering its 10-yeary warranty with the new fixtures.
Cree would not say precisely which LEDs are used in the new design, but a spokesperson did say that the fixtures use components based on the company's third-generation manufacturing platform. The lights do not use lower-cost, plastic-packaged LEDs.
Part of the story is that these new lights are lower-output devices, given the residential neighborhood target, relative to other Cree streetlights. The XSPR family can deliver 2529–3819 lm. The top end of that range is the bottom end for the previously announced XSP Series.
The XSPR fixtures do use the same NanoOptic lens grids that were introduced with the XSP, and that have a series of total-internal-reflection (TIR) lenses molded into a one-piece design with each TIR covering a cluster of LEDs. Earlier Cree designs used smaller individual TIR lenses over single LEDs. Leveraging the work done on the XSP surely saved the company some R&D expense.
But it is the combination of LEDs, optics, electronics, and mechanics that enables the low price point. "Cree is able to deliver a game-changing price as low as $99 with the new XSPR LED Streetlight," said Greg Merritt, vice president, lighting at Cree. "By leveraging Cree's vertical integration, we designed an optimized LED component to produce more light for a lower cost. Combining the new LED with a unique thermal management design and Cree's NanoOptic Precision Delivery Grid technology provides municipalities an LED streetlight that makes switching to LED a no-brainer."