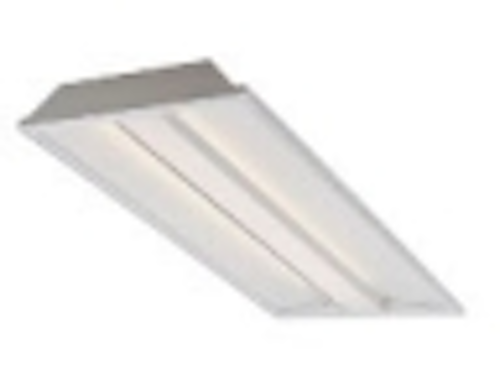 Cree Lighting has announced another LED-based troffer product – the AR Series – that offers 100-lm/W efficacy and the 90-CRI color quality often required for architectural specification. The new solid-state lighting (SSL) products perform similarly to the existing CR series, but offer a new look including a centerline optic that can place more light on a task plane.
Indeed the CR and AR Series offer very similar performance and price including the 90 CRI that Cree achieves using what it calls TrueWhite technology mixing red LEDs with phosphor converted white LEDs to deliver neutral CCTs. "Some people love the CR," said Jeff Hungarter, product portfolio manager at Cree. "Some people think it's a little too industrial." As the nearby photo shows, the AR offers wider diffusers that run the length of the fixture on each side, and a narrower diffuser down the center.
While the two troffer families share performance specs, the designs are quite different. The CR mounts LEDs along the centerline on the back side of the decorative aluminum heat sink that is exposed on the room side of the fixture. Those LEDs shine upwards into reflectors that spread light evenly.
The new AR design mounts the LEDs in the top of the fixture with the heat sink hidden. The light is spread by a combination of reflecting surfaces and the aforementioned diffusers.
The AR Series does provide more direct lighting although the lumen-output specs for the CR and AR are similar. Hungarter said that the AR offers a 5-6% increase in illuminance over the CR, directly under the fixture.
The news products come in the 2-ft AR22 and 4-ft AR24 versions, each in a choice of 3500K or 4000K options. The design supports 0-10V dimming, fluorescent step dimming that can reduce output by 50%, and optionally compatibility with the Lutron Ecosystem adaptive controls.
"The AR Series provides an excellent option to the lighting specifier, designer or customer who is seeking aesthetic options to our standard CR Series LED troffer," said Greg Merritt, vice president, lighting at Cree. "We now have a fully luminous troffer, with a new architectural look suitable for applications such as corporate offices, up-market retail merchandising spaces and automotive retail applications."