Peerless announces efficient fluorescent pendant or wall-mount fixtures
The new Staple series of T8 and T5 luminaires from Acuity's Peerless brand enable installation with energy profiles as low as 0.6W per square foot.
Mar 14th, 2013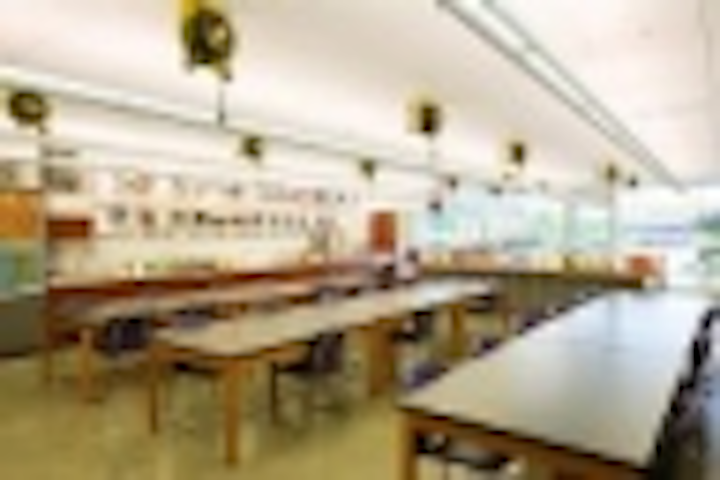 Peerless, an Acuity Brand, has announced a new line of fluorescent fixtures called Staple that offer a choice of T8, T5, or T5HO (high output) sources. The new family includes models with diffuser lenses or baffles and that can be wall mounted or extended from the ceiling.
The staples luminaires are direct/indirect style fixtures in which 65% of the lumens are directed upwards to reflect off the ceiling providing uniform ambient light and 35% of the lumens are directed to the task plane. Even the wall-mounted versions are oriented with the emission surfaces facing up and down and the full width of the luminaire extending from the wall.
Peerless offers the products in 4-, 8, and 12-fit lengths for individual installation or to be joined in continuous runs. The target application is architectural specification in settings such as schools, office, retail, and medical facilities. A nearby photo depicts the products installed in a high school art classroom.
The products provide specifiers a number of ways to minimize energy usage, starting with efficient sources and including adaptive controls. Peerless said that the luminaires are more than 90% optically efficient. Spaced 10-ft apart a 60×40-fit open floor plan, the luminaires consume as little as 0.6W/ft2 while delivering 31 fc on the task plane.
Controls options come courtesy of nLight technology from Acuity's Sensor Switch brand. Buyers can specify the products with an nLight Micro Sensor integrated that can enable daylight and/or occupancy dimming. Moreover nLight modules can also include full programmatic network control.
"With Staple, our aim was to bring to market a first-class quality luminaire at a value that would make it truly accessible to all," says Peerless value stream director Meggan Kessler. "We focused our resources on developing minimal, cost-effective components and efficient production methods that wouldn't compromise our commitment to vision-friendly optics and design-forward styling."