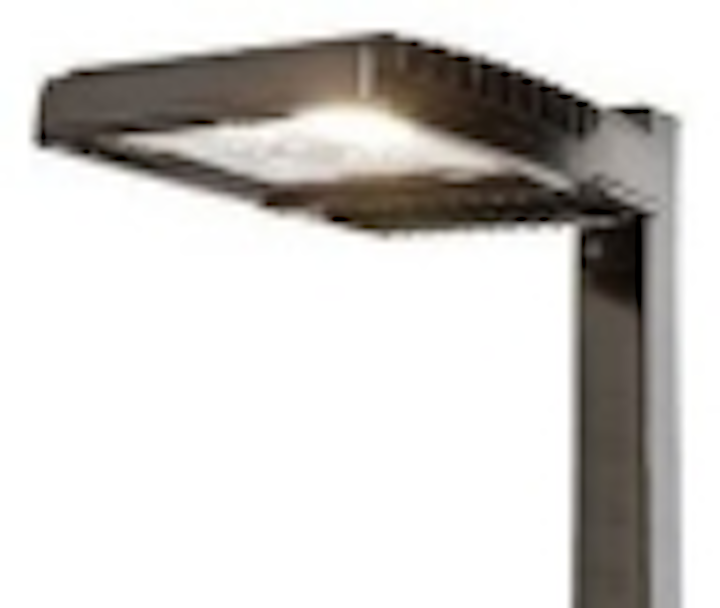 GE's four differently-sized Evolve LED area lights for outdoor parking lots now come with more photometric options and two color temperature options. The scalable Evolve solid-state lighting (SSL) area lights produce 30% savings on energy compared with traditional high-intensity discharge (HID) or metal halide lighting.
These fixtures are also rated for 50,000 hours of life (>10 years based on 12 hrs of operation/day) so they are well suited for retailers, car dealers, commercial property owners, mall owners and many other businesses. GE says that this amounts to four times the recommended service interval of a standard HID system, reducing maintenance costs.
The engineers at GE had the idea to reduce fixture size incrementally and basically create four lights that would suit "the size of virtually any parking lot, big or small," says Tim Miller, senior product manager for GE Lighting. He added that outdoor spaces that were originally optimized only for HID can now be retrofitted with GE's outdoor lighting "using a 5:1 spacing ratio with fixture poles."
Similar to GE's Evolve Cobraheads for lighting roadways, which were a Best-in-Class winner in the recent Next Generation Luminaire competition sponsored by the Department of Energy, Evolve's area lights use reflective technology (not refractive) to achieve an optical design that offers better vertical illumination and uniformity, and less glare and wasted spill light as fixture lumens can increase up to 25,500.
At the 2012 National Association of Convenience Stores (NACS) show, GE's new LED outdoor fixtures were recognized with a "Retailer Top Pick" award. NACS is an international trade association representing more than 2200 retail and 1600 supplier company members.