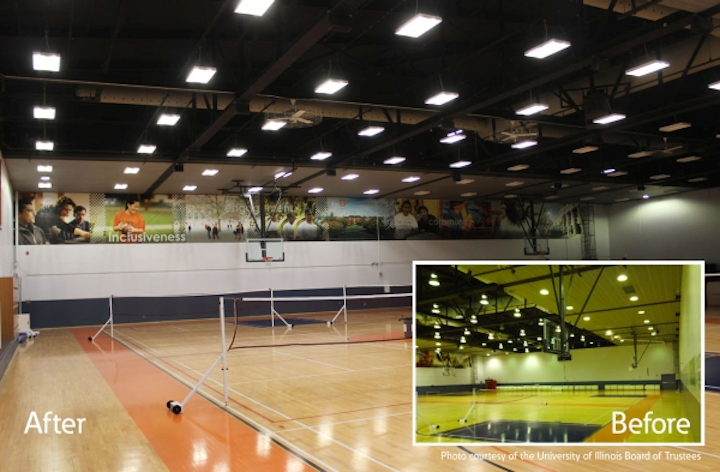 The University of Illinois at Urbana-Champaign expects to save $70,500 annually in energy and maintenance costs after replacing metal-halide fixtures with Metalux high-bay SSL products.
Eaton's Cooper Lighting has announced a solid-state lighting (SSL) retrofit project in a campus recreation facility at the University of Illinois at Urbana-Champaign. The project that was focused on LED high-bay lighting in three gymnasiums is expected to deliver $70,500 in annual energy and maintenance savings.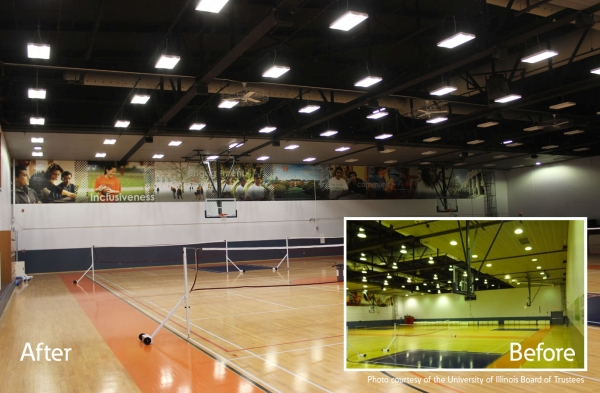 Cooper supplies LED high-bay lighting for University of Illinois gyms
The project includes the replacement of almost 400 metal halide (MH) fixtures. The prior 400W lamps were replaced with 100W Cooper Metalux HBLED high-bay luminaires. The HBLED luminaire was designed to replace both HID and fluorescent technologies in high-bay applications.
But as is increasingly the case, even in recreation facilities, the goal of the project was better lighting in addition to improved energy efficiency. For example, we had a cover story last summer focused on a GE Lighting project at Boston University. Likewise, indoor tennis centers are turning to LEDs for better lighting.

In the University of Illinois project, the campus facilities team sought to raise the gym light levels to meet current IES (Illuminating Engineering Society) recommendations. Lighting consultants from Engineering Concepts & Solutions recommended LED high-bay lighting as a way to both deliver the improved lighting and savings in energy and maintenance. The aggregate energy savings also take into account HVAC savings resulting from cooler-running LEDs. "We chose to use LED fixtures to reduce lighting maintenance labor and electrical consumption since LEDs generate a fraction of the heat compared to other sources," said Tim Madden, vice president and principal at Engineering Concepts & Solutions.
The principals in the project further considered the impact that more granular control of lighting could provide in terms of additional energy savings. Madden said, "University staff also wanted the ability to individually control the lighting on each court instead of having to switch on all the fixtures at once." The new lighting offers such granular on/off controls.
The Metalux HBLED series of high-bay lights comes in lumen packages ranging from 12,000–38,000 lm. The 100W product produces 12,000 lm. Cooper offers the option of 4000K or 5000K CCTs. Control options include integral occupancy sensors and 0-10V input for dimming.