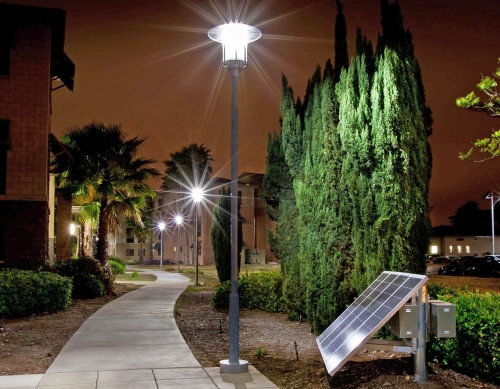 Solar Electric Power Company (SEPCO) has announced a new solar-powered, LED outdoor lighting project at US Marine Corps Air Station Miramar in San Diego, CA — the base where the movie Top Gun was filmed. The off-grid lighting replaces a prior system that consumed more than 257 kW. Moreover, the new solid-state lighting (SSL) provides far superior lighting in terms of visual safety while also slashing maintenance costs.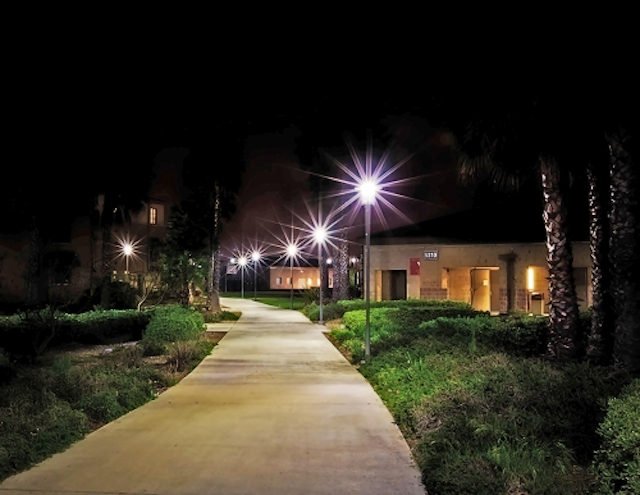 The area around the Miramar Bachelor Enlisted Quarters (BEQ) was previously lit by 150W high-pressure-sodium (HPS) fixtures installed on 143 poles. With the ballast, each pole consumed 180W. The 18W LED outdoor lighting would offer huge energy savings if it were grid connected, but will be free in terms of energy costs given the solar power.
The efficiency of LED sources has breathed new life into the solar industry, as we covered based on a presentation at Strategies in Light back in 2014. Even though solar panel efficiency has largely stagnated, the efficiency is suitable for many outdoor lighting applications. Indeed, we published a feature article last October on the viability of solar-powered LED outdoor lighting in commercial settings.

In the Miramar project, SEPCO supplied one set of solar panels that can charge batteries sufficiently to power four luminaires from dusk to dawn. Of course, San Diego enjoys a relatively sunny geography. Still, the scale of the implementation is impressive with the need to only install solar panels at ground level for every fourth pole (see photo below).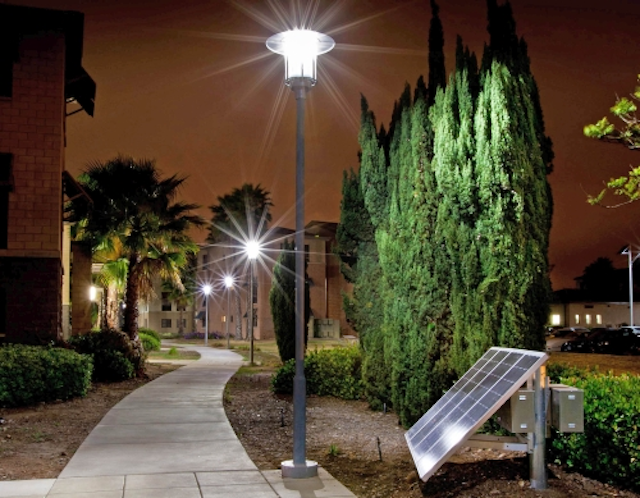 SEPCO supplies solar-powered LED outdoor lighting to California Marine base
Meanwhile, Miramar was able to meet federal-government-mandated requirements with the project. The LED outdoor lighting is in accordance with the Federal Energy Policy Act for a project that delivers "materially reduced" power usage. And the broad-spectrum SSL provides far better visibility for pedestrians and drivers, thereby increasing safety and security.
The Marine base has been able to reduce the outdoor lighting load on the grid to just 2.6 kW. And the new system enabled simpler installation of wiring underground to provide a cleaner look in the area.
The maintenance savings will also prove vital to the base facilities crew. Miramar said the HPS lamps typically had to be replaced on a 20,000-hour cycle. The base expects to get 60,000 hours of maintenance-free operation from the solar-powered LED outdoor lighting system. Maintenance costs will be reduced by half at a minimum and likely much more.