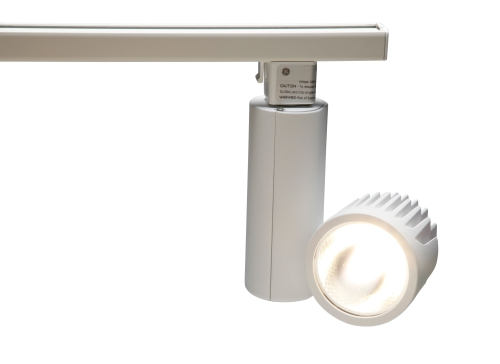 Solid-state lighting track portfolio includes models with 90 CRI targeting demanding retail sales applications and other accent usages.
GE Lighting has announced the Lumination TS Series of LED-based track lighting fixtures intended for accent lighting applications. The family includes flood and spot versions and offers the color quality required in demanding retail lighting scenarios. Ultimately, the family will include track systems, products that can be retrofitted onto installed tracks, and new recessed multi-head fixtures.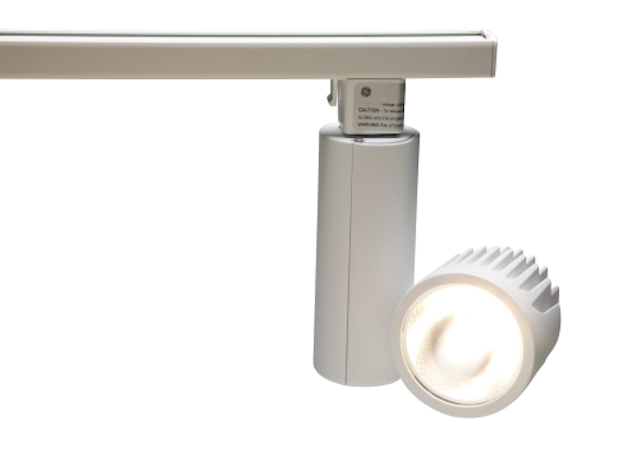 GE Lighting expands LED-based Lumination series with track fixtures for accent and retail lighting
Lumination is the brand name that GE uses across its indoor architectural- or specification-grade portfolio. That Lumination portfolio includes products such as:
· Recessed troffers based on the Intrinsx light-guide technology

· Downlights based on Zhaga-compliant LED light engines

· Downlight retrofit kits for exiting recessed enclosures

· Linear pendants with indirect-like beam spread

The new TS Series adds products that specifically offer the beam control and color rendering needed by lighting designers/specifiers for demanding accent lighting roles, while also delivering energy efficiency. "Our new LED track lights can deliver 90 lm/W," said John Koster, product manager of LED modules for GE Lighting. "You also get great color rendering with CRI values of 80 or 90. And all of this is available in a compact, white or black powder-coated housing that fits any design scheme."
The floodlight products in the portfolio can be specified with 25° or 35° beams, and in lumen packages including 875 lm, 1300 lm, and 1750 lm. The spotlight version delivers 1150 lm in a 15° beam. GE offers the complete family in a choice of 2700K, 3000K, and 3500K CCTs. GE also says that its Visual Comfort Lens technology delivers diffuse uniform light with no LED pixilation in the accent lighting products.
GE will supply complete systems or the track heads in a format that's compatible with global track standards. The company will also offer adapters that enable compatibility with Halo and Juno tracks for retrofit accent lighting projects.
Also due this quarter, GE will offer the TS Series in recessed multi-head fixtures with the same performance capabilities. Those multi-head products will deliver a choice of 1080 lm or 1400 lm per head. GE plans trim and trimless versions.