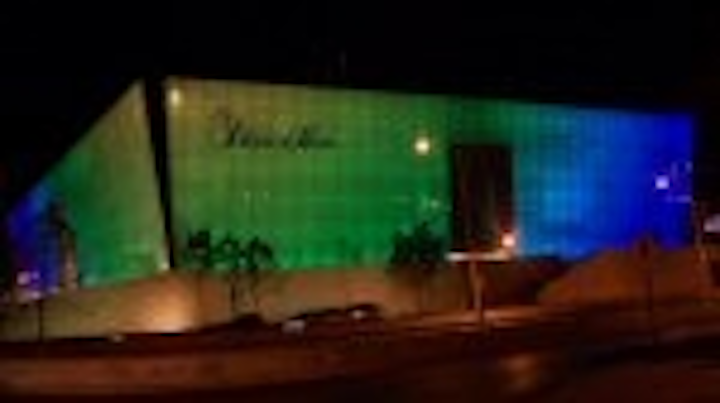 A long-established retail department store, El Palacio de Hierro translates in English as "The Iron Palace." The retail shop received its name by being one of the first structures in Mexico built of iron and steel, and still carries on its tradition of being Mexico's most recognized department store.
With locations in main cities such as Mexico City, Puebla, Monterrey, and in 2008 Guadalajara, the Monterrey location was looking to distinguish itself from the other sites. Color Kinetics' LED-based lighting systems proved to be an ideal solution.
Sordo Madaleno Arquitectos, an architectural firm, was tasked to create a distinctive exterior feature for the department store. Architect Javier Sordo Madaleno partnered with lighting designer Enrique Quintero of Arquitectura de la Luz to create a stunning visual display on the building's façade.
The design concept was intended to project two different images; during the day the building emanates a clean and elegant look with a minimalist feel, and in the evening the store is transformed into a spectacular light box radiating color-changing effects with the help of over 700 Color Kinetics ColorBlast® 12 fixtures.
Two frosted glass façades were designed by Sordo Madaleno; each panel rises over 65 feet (20 m) high and 375 feet (115 m) wide. The ColorBlast 12 fixtures are mounted on the interior side of the glass panels. The fixtures' light output is aimed towards the store and projects uniform light with precise color mixing on a white concrete wall. The result is the illusion of "glowing" frosted glass panels.
When lit at night, the exterior becomes a beacon of color changing effects, controlled by Color Kinetics' Light System Manager, an Ethernet-based control solution that simplifies the authoring, management and playback of light shows across large-scale installations.
A winner of Architectural Digest Mexico's 2006 Best Lighting Design, El Palacio de Hierro has become an icon for its magnitude and localization, as well as its stunning visual effects.