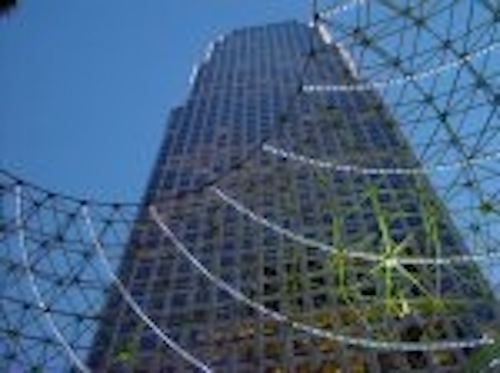 Ernst & Young Plaza in the heart of downtown Los Angeles is a 41-story office building with a center courtyard on the 2nd floor surrounded by retail shops and restaurants. Far above the courtyard is a web-like truss-structure ornamented with 3,400 tiny bulbs to provide a star-like romantic scene in the evening.
Replacement of the incandescent light bulbs with solid-state LED light bulbs from Act One Communications has landed a significant saving for the building owner.
Before the replacement, the 7-watt incandescent bulb used has a typical life of 3,000 hours, which translates into an actual usage of only about ten months. Hence, on the average, 340 bulbs would burn out each month and needed to be replaced, one by one, by the service crew. This routine maintenance led to an annual cost of tens of thousands dollars plus the need for a heavy lifter equipment.
The facility management company of Ernst & Young Plaza, ABM Engineering Services, contracted to Act One Communications, Inc. in Irwindale, California to supply solid-state LED light bulbs to replace those incandescent bulbs.
The new LED bulb produces the same brightness, yet only consumes 1.3 watt power for an 80% energy saving. In addition, the LED bulb can last minimum 50,000 hours, meaning it can be used for more than 13 years without replacement!
The LED bulb developed by Act One used 6 white LED lamps made by Nichia of Japan. The development work led to a final design that matched the color, viewing angle and brightness of the incandescent bulb.
Since completion of the project in 2002, the LED light bulbs have been operated in a totally outdoor environment for more than five years. The originally installed ones still light up every day after sunset with no need for routine maintenance, thus providing a truly long-lasting "star-like" scene for diners, shoppers and visitors at the plaza!