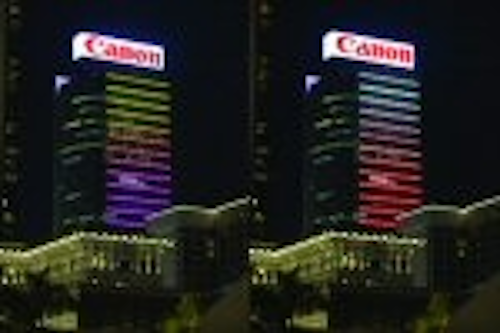 A prominent Kowloon skyscraper occupied by Canon has installed LED lighting technology from Laservision, enabling the building to participate in Hong Kong's Symphony of Light show.
The design utilizes 6-watt LED dots, each containing 6 LEDs, 2 each in red, blue and green. A total of 14 rows of LED dots, with 30 dots per row, have been installed along each of the building's external ribs. The design solves light trespass and light pollution issues that are problematic in illuminating glass surfaces.
Conventional lighting designs utilizing wash lighting and floodlight techniques require approximately 200 kilowatt hours of electricity to run them per night. In comparison, Laservision's LED technology uses 5 % of this energy per night.
The low energy design for the Canon building uses only 12.5 kW.hr at a cost of under US $2.00 per hour. At such a low energy requirement, this lighting design has the option to be serviced by sustainable energy solutions such as solar power.
The final view provides spectators with intensely bright, color-changing effects, regardless of the audience's viewing position, even from oblique angles.
Laservision claims that the individual fixtures have an expected lifetime of 70,000-80,000 hours, compared with 3000 hours for traditional wash lighting fixtures.
Laservision's Digital Data-Pump II provides the control system for the Canon building's new lighting design and enables integration into Hong Kong's "Symphony of Light," a nightly show that is the world's largest light and sound show.