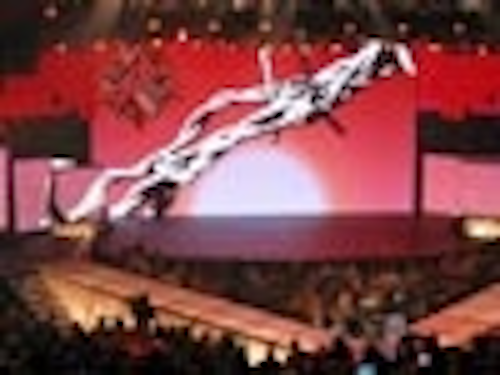 Impact Video illuminated the set of Spike TV's 3rd annual Video Game Awards with spectacular Barco LED video displays. This year's multi-level set design, created by Bruce Rodgers of Tribe Design, relied heavily on video to create a variety of desired set looks allowing the audience to be a live part of the set.
This year's event, held at the Gibson Amphitheatre in Universal City, California featured 420 Barco ILITE 6 mm tiles creating an amazing center stage screen measuring 22 feet high by 41 feet wide. Surrounding both sides of the stage were 365 Barco DLITE 7 tiles that formed sixteen additional wing screens of various sizes.
Ian McDaniel of Media Evolutions produced the video and graphical content where animations seamlessly moved across the video screens throughout the entire set. In total 17 LED screens consisting of 1,150 Barco LED tiles, driven by 21 D320 Processors, brought the set to life.
Hosted by Samuel L. Jackson, this year's extravaganza was a star studded, action packed event featuring musical performances by 50 Cent, Def Leppard and Missy Elliott as well as show appearances by Charlize Theron, Keifer Sutherland, Jack Black, Vin Diesel, The Rock and more. "Game of the Year" honors went to Capcom's Resident Evil 4.