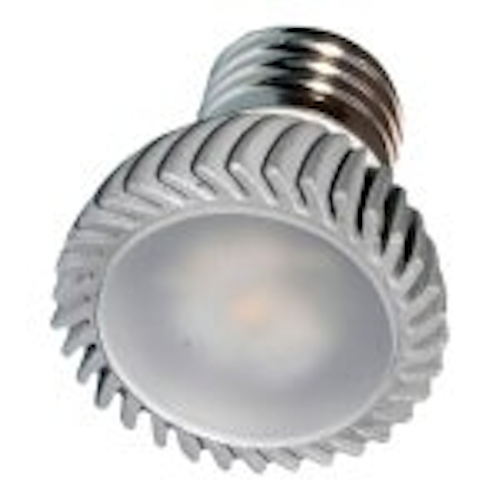 Lighting Science Group (LSG), a leading designer of energy-efficient LED lighting products, has incorporated Ostar LEDs from Osram Opto Semiconductors into LSG's new LED-based R-16 compact floodlight.
LSG expects that the R-16 lamp will enable significant energy and maintenance savings in industrial and commercial applications, especially in elevators, and also for flood, track and spot lighting.
Ron Lusk, chairman and CEO of Lighting Science Group, said. "Elevator lighting represents a substantial market opportunity for us, and we view the LED R-16 as key to our development of this market. Additionally, since most elevators are lit continuously, our R-16 lamp presents important opportunities for energy conservation and labor cost savings."
The LED R-16 lamp from LSG will contain a single six-chip Ostar with lens, which produces 420 lumens, making it brighter than a 20-watt low-voltage halogen lamp. Osram says that the Ostar's unique chip design is ideal for down lighting as it delivers exceptional brightness from a very small source. Its hexagonal shape also enables more LEDs to be linked together in space-saving, high-intensity packages.
LSG has previously incorporated Osram Ostar LEDs into R30 lamps (see LSG and Osram Opto develop LED-based R-30 lamps).
According to LSG's current testing of the combined technologies, the LED R-16 lamp will offer a lumen output maintained at 70 percent capacity over an estimated life of 30,000 hours or approximately three years. It is thus ideal for use in difficult-to-reach applications.
As part of its Green Building effort to reduce the use of mercury containing lamps, Merrill Lynch is installing the R-16 LED lamp where the application may be appropriate.
The new LED R-16 lamp is currently in production and is available for purchase online at http://store.lsgc.com and soon through distributors and big box retailers.