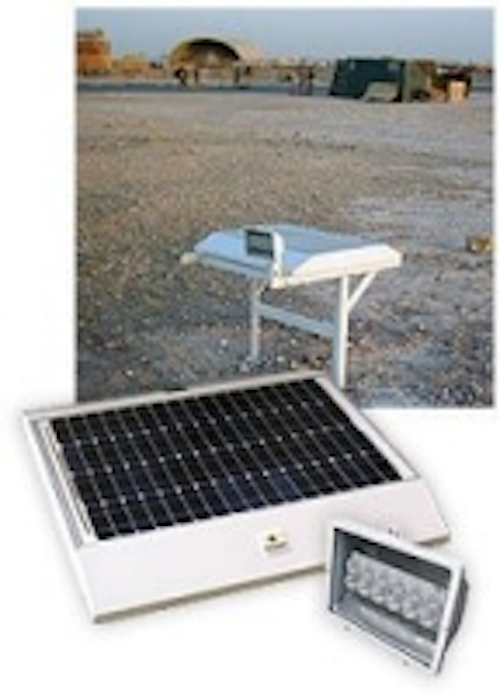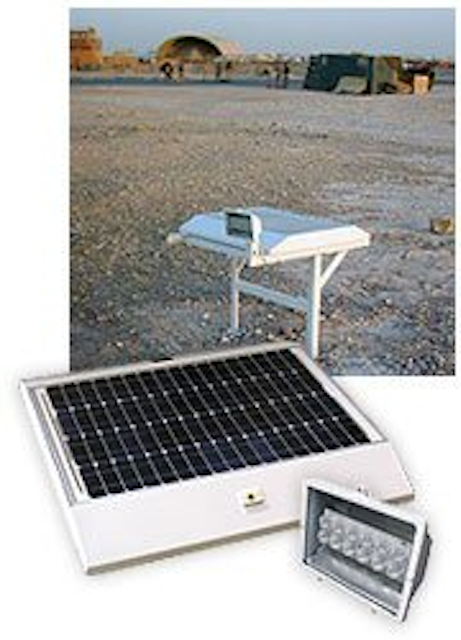 FP-50 50-W solar LED lighting system
Carmanah Technologies has received a CAN$767,270 order to supply a number of its Model FP-50 solar-powered LED general illumination systems for the US Marine Corps (USMC). The units are scheduled for final installation at an air base in the Middle East during September and October, 2006.
This order is a result of a field trial of nine FP-50 systems at two different USMC bases in the Middle East. The trial systems offered unparalleled light output performance and also proved to be reliable and durable, even under the extreme temperatures and harsh environmental conditions found in the Middle East. This latest order of FP-50 systems will be used for apron floodlighting, taxiway/runway intersection lighting, building lighting, path lighting and general illumination.
In addition to these FP-50 systems, the USMC currently operates more than 260 Carmanah GI-102 solar-powered LED spotlights at two airbases in the Middle East. In total, more than 6000 of Carmanah's solar LED aviation lights, spotlights and floodlights are now in use by the USMC alone.
Using Carmanah's patented MICROSOURCE(r) Energy Management technologies, the FP-50 is extremely compact and cost-effective; all batteries, electronics and solar module are contained within a small housing that can be pole-mounted out of reach and out of harm's way.
Runway lights
Carmanah has received an order from the US Air Force (USAF) for a total of 150 units of its Model A702 runway light and A601 taxiway light. These units will be installed for runway edge caution lighting and taxiway edge lighting at a Forward Operating Base in the Middle East. Carmanah's solar LED airfield lighting technology has already been in use at this base for more than three years.
The USAF selected Carmanah's solar-powered LED lights for their ease of deployment, and the ability to operate where electrical power is unreliable or non-existent. The USAF has been using Carmanah's solar-powered LED aviation lights for US Defense and Coalition Forces operations for the past 42 months in the Middle East where powered infrastructure is not available or unreliable. Carmanah's airfield lights are ideal for permanent, temporary and emergency airfield lighting applications.