Lightmoves goes to the movies
Australian LED lighting specialist Lightmoves has improved the popcorn-buying experience in several cinemas
Jan 25th, 2006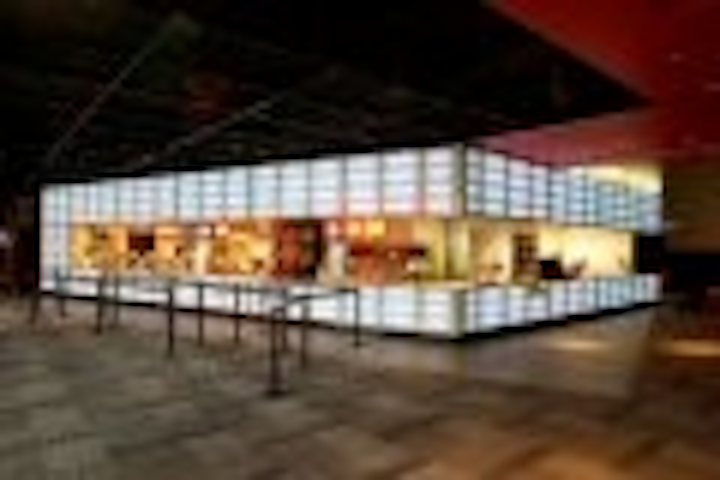 Hoyts Cinemas have recently opened two brand new cinema complexes in Australia - one at Melbourne Central and the other at Sydney's Blacktown – that use LEDs to create foyer areas which are unique, colourful and most of all dynamic.
Crowd Productions, the chief architects of Hoyts' public spaces, worked with lighting supplier
Lightmoves
to create horizontal color-changing lines of light behind glass panels throughout the Ticket Box and Bar areas.
Lightmoves' Joe Casamento chose Osram's Linearlight Flex LED strips due to their compact and modular nature, but also, more importantly, because of the fact that they offer a very even colour wash and work directly off Dynalite LED dimmers.
Dynalite's DDLEDC401 LED controllers were used to control all LEDs on the project and were programmed offsite using visualising software and later downloaded onto an Enttec DMX Streamer controller on site. The Streamer's 26 different programs can be triggered by Hoyts' own computers using simple RS232 commands. The simplicity of this setup allows Hoyts to operate the system manually if desired or run automatically to timed events.
The foyers and bar area now display eye catching displays of colour and excitement that change during various times of the day, ranging from subtle pastel colour shifts during the day to bright celebratory party colours at night.
However, Crowd Production's and Lightmoves teamwork was not restricted just to the foyer. Hoyts' new first-class cinemas, known as the Directors Suite, also received a touch of LED magic; but this time it wasn't just for show, it was also practical.
Each of the cinema seats in the Directors Suite is accompanied by a food and drink table. Of the many proposals created by Michael and David, one of the more innovative and simple ideas was to attach a white, fully dimmable LED strip around the edge of each table. Whilst starting rather bright before the commencement of the film, these strips dim down to 1% by the time the movie begins. This allows the patrons to still see their food and drinks, without distracting themselves or others around them.
Crowd Productions' Michael Trudgeon said: "The brief from Hoyts was to give the Directors Suite the most luxurious and prestigious feel possible. Having previously spent many years in the advertising industry, I know that the use of up-lighting on food and drink, particularly alcohol, can create this desired effect."
This original and colourful project proved once again that well designed and implemented lighting can have extensive creative and practical benefits for both business and the consumer.