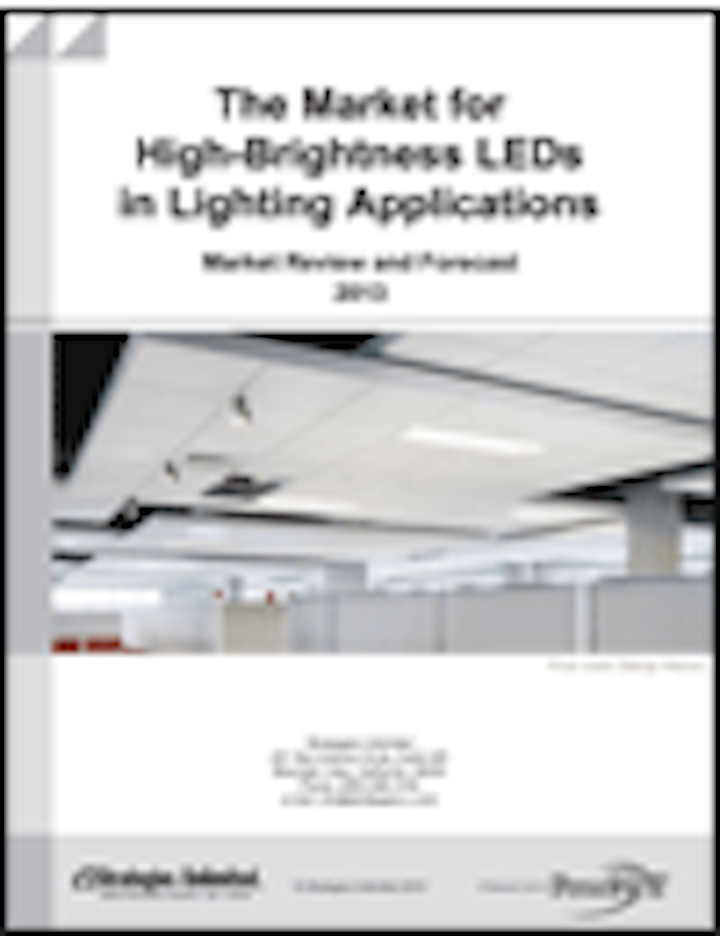 Report Price: $5,250
Publish Date: September 2013

• Revenues for LEDs in lighting applications which includes both replacement lamps and luminaires are expected to grow at a compound average growth rate of 13% through 2016.

• The average efficacy of commercially available LEDs for lighting applications increased to greater than 100 lumens per Watt.

• Lighting applications have seen a variety of different packages used over the last year including--arrays, high voltage LEDs, high CRI, tighter color bins, directional, multi-directional etc.

• The efficacy of the system, rather than LED efficacy was the gating factor in 2012.

HB-LEDs saw a precipitous fall in prices in 2012 which helped reduce the price LED lamps and luminaires. The growth in lighting applications could not compensate the slow growth in LED TV applications, but the adoption of HB LED in lighting offers a growth strategy for HB LED suppliers. The general lighting markets in the developed world continue to be soft while the LED markets saw market growth in almost all
lighting applications. Although the growth rate for the LED luminaire markets was in double digits the revenues for LED manufactures were affected by price declines.
Growth in emerging markets and the need for reducing energy use continue to be the strong drivers for LED adoption. While some applications such as the outdoor lighting, architectural, and commercial lighting have proved their viability, the price per lumen for LED lighting is the limiting factor. The report analyzes the market for LEDs used in ten lighting application segments for the base years 2010 and 2012 and offers forecast through 2017.