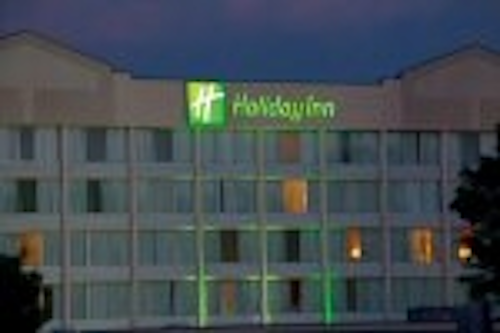 The Holiday Inn brand and hotel chain is currently undergoing a $1 billion global relaunch, including a redesign of the iconic brand logo, which in turn has required new exterior signage for over 3,200 locations.
The signs incorporate GE Tetra® LED lighting systems from Lumination, GE Consumer & Industrial's LED business. More than one million feet of GE Tetra LED lighting systems will be installed across 3,200 properties.
The new signage will save Holiday Inn an estimated $4.4 million annually over previous neon and fluorescent lighting ($3 million in annual maintenance savings, and $1.4 million in energy savings).
This massive signage project involves more than 20 sign manufacturers creating 9,300 channel letter and box signs with high–performance GE Tetra LED lighting inside. There are more than 270 different lighting configurations across five Holiday Inn brands, where the signs range from 11 inches high to as large as 8 feet.
Holiday Inn expects to cut energy usage by more than half and achieve an estimated 52 percent reduction in kilowatt hours with signs lit an average of 12 hours per day, 365 days per year. That represents an estimated reduction of 8,700 metric tons of carbon dioxide annually or the equivalent of planting more than 2,300 acres of trees per year.
The GE Tetra LED systems are significantly more energy efficient than commonly used neon or fluorescent, and they overcome performance challenges fluorescent can encounter in cold climates.
"GE has more than 19 million feet of Tetra LED lighting installed with less than a 0.05 percent warranty return rate," says Eric Stevenson, GE's global product manager – signage. "Holiday Inn recognized the importance of this long–term, real–world reliability in choosing a signage solution that would deliver years of consistent, virtually maintenance–free operation."
In addition to proven reliability, Holiday Inn and its signage consultant/project manager, Sign Management Consultants, sought an LED systems supplier that could carry out such a large project under tight deadlines.
"A project of this scale requires suppliers that can deliver. We were confident GE had a variety of LED solutions to meet Holiday Inn's needs," says Mark Burkett, vice president, Sign Management Consultants.
The Tetra LED lighting systems used in this program include Tetra Power White and Tetra MAX for channel letters, and Tetra PowerGrid for box signs. Tetra Power White is a high–performance LED system that delivers up to 66 lumens of brilliant white light per module. Tetra PowerGrid is a high–brightness, modular system that is easy to install and lasts up to four times longer than T12HO fluorescents. All three lighting systems last up to 50,000 hours and are RoHS compliant, containing no lead, mercury or glass.