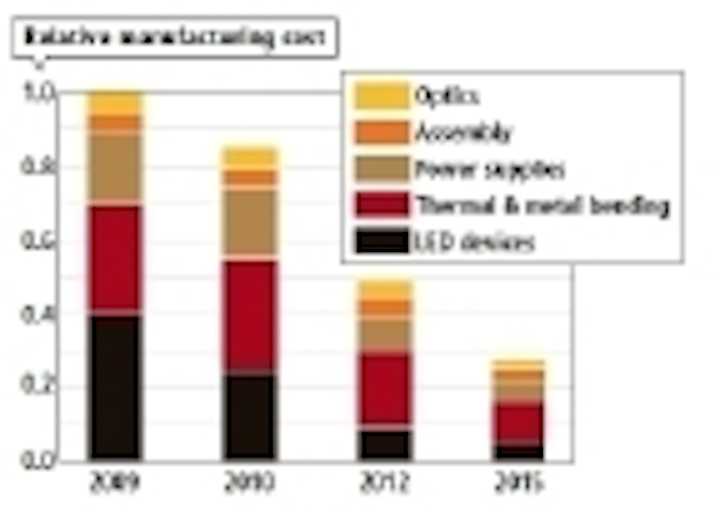 +++ Cover Story +++
Formula One World Champion Jenson Button races past the Yas Hotel, Abu Dhabi, which is covered with an LED net from Cooper and Enfis (p.12). Photo credit: Enfis Group plc.

+++ Features +++
MANUFACTURING
Supply chain maps a path to bringing down the cost of LED lighting
Significant reductions could be achieved in the cost of producing LEDs, particularly if the supply chain can collaborate on an industry-wide roadmap, writes PAULA DOE of SEMI.
CONNECTORS
Connectors: the vital link for lighting system design
Taking the time to select the correct connector technology for a specific lighting technology can pay dividends, writes RONALD WEBER of Tyco Electronics.
SAFETY CERTIFICATION
Navigating the product safety certification process for solid-state lighting products
With proper planning, it is possible to efficiently navigate the testing and certification waters and launch high-quality LED products into the rapidly changing lighting market, writes TODD STRAKA of Intertek.
CONFERENCES:
Strategically Speaking: Recent conferences in Asia highlight LED industry progress
Two recent LED conferences—one in Japan and the other in China—illustrate how the LED industry continues to move forward, even in the midst of a worldwide recession that has caused substantial downturns in other industries, writes BOB STEELE.
OUTDOOR LIGHTINGOutdoor LED lighting benefits from PG efforts, but health concerns are surfacing
The California utility PG&E has added LED lighting to its rate schedule, but people are starting to discuss whether cool-white lighting is a great idea. BRIAN OWEN and TIM WHITAKER report.
DESIGN FORUM
Putting the Smart Phone in control: using apps in embedded systems to control LED lighting
An iPhone app has been developed to control a low-cost, two-wire, low-voltage LED color lighting system in the home, explains CARL MATTHEWS OF ML Electronics Ltd.
LAST WORD
Really Big LEDs will enable the next phase of LED lighting
"RBLEDs" will enable the widespread adoption of LEDs in general lighting applications, says KEITH WARD, president and CEO of LUMINUS DEVICES.

+++ Columns/departments +++

COMMENTARY
Nights draw in, LEDs light the road ahead
NEWS + VIEWS
Manufacturing equipment sales on the rise
LEDs tower above Paris, London
Epistar and Lynk Labs ink deal
SemiLEDs increases capacity
Cree shows 102 lm/W LED A-lamp
FUNDING + PROGRAMS
EPA and DOE sign deal to end Energy Star Wars saga
Rogue lamp labels hit the shelves
PRODUCT FOCUS