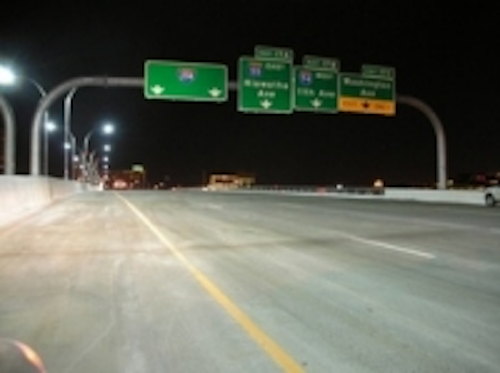 The U.S. Department of Energy (DOE) has published the first report from a demonstration of LED roadway lighting on the I-35W bridge in Minneapolis, Minnesota. The project represents the first installation of LED lighting on a major interstate thoroughfare in the United States.
This Gateway demonstration report provides an overview of initial project results including lighting performance, economic performance, and potential energy savings.
Key findings to date include:
The LED luminaires provided a notably uniform illumination and offered a conservative 13% energy savings relative to the baseline HPS system.
Sufficient illumination levels across the wide span of the bridge were more easily met during LED luminaire simulations than with the traditional HPS system.
The luminaires' 40-foot mounting height and wide coverage area necessitated the use of large LED luminaires with correspondingly high first costs. Simple payback was found to be quite long at current luminaire pricing.
Overall public reaction to the LED bridge lighting has been very positive, with "positive" comments outweighing "negative" comments by about five-to-one.
DOE will continue to monitor the project over the next three years, and a final GATEWAY report will be published at the conclusion of this project.