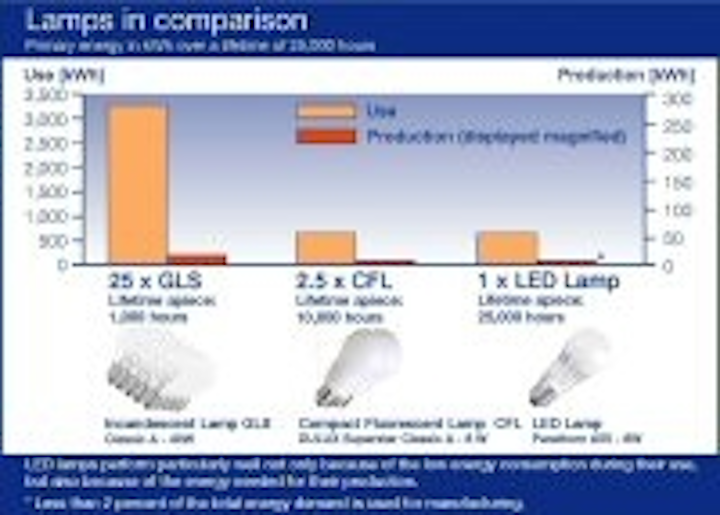 A study on the life-cycle assessment (LCA) of LED lamps by Osram shows the latest generation of lamps achieves a very high score for environmental friendliness. The study was carried out by OSRAM Opto Semiconductors in collaboration with experts at the Centre for Eco Innovations, Siemens Corporate Technology (Osram is a subsidiary of Siemens).
The study involved a close look at the entire life-cycle of different lamps types – how much energy and raw materials the lamp consumes in terms of production, use and disposal and the environmental impact involved in the process. The result was that today's LED lamps achieve similar "LCA values" to compact fluorescent lights (CFLs) and are far superior to conventional incandescent lamps.
In order to evaluate lamps and their total consumption of energy and resources, it is not enough just to consider energy consumption while they are in use. The aim of Osram Opto Semiconductors' LCA was to analyze the environmental impact of an LED lamp over its entire life, in comparison with a compact fluorescent lamp (CFL) and an incandescent lamp.
The relevant material and energy supplies were determined in detail for all the LED lamp's components and production processes. This involved a detailed analysis of each individual production stage, for example the production of LED chips and lamp housings.
It also included factors such as transport; for example, the transportation of an LED lamp from its production site in China to its place of installation in Europe.
As well as the direct input of raw materials, the study looked at the energy input, materials and emissions associated with the retrieval of resources. The results allow for conclusions not only on resource consumption and primary energy input but also acidification, eutrophication (an increase in the concentration of chemical nutrients in an ecosystem), the greenhouse effect, ozone depletion and toxicity.
Comparing different lamp types
Osram Opto Semiconductors says it has shown that LED lamps are a genuine alternative to incandescent lamps, even when considering the cumulative energy input and environmental factors. Often these fundamentally different lamps were compared based on their wattage. Conventional lamps with filaments are way behind CFLs or LED-based lamps. A 40 Watt incandescent lamp, for example, can either be replaced by an 8W compact fluorescent light or, for some applications, by an 8W LED lamp, which means an energy saving of 80 percent.
In order to guarantee the comparability of results in the LCA, a lifetime of 25,000 hours was chosen as reference. The latest LED lamp generation (Parathom Classic A55 with Golden Dragon Plus LED) achieves precisely this rating. Therefore, 25 incandescent lamps (OSRAM Classic A 40W) with a lifetime of 1,000 hours and 2.5 fluorescent lamps (Dulux Superstar Classic A 8W) lasting 10,000 hours have to be used for a comparison.
Over 98% of energy used to produce light
The study shows that CFLs and LED-based lamps are similar in that over 98% of the energy used is consumed to generate light, while less than two percent is allocated to production. This has dismissed any concern that manufacturing of LED lamps might be very energy-intensive.
In contrast to the primary energy consumption of incandescent lamps of around 3,300kWh, LED lamps consume less than 700kWh.
The bottom line, says Osram, is that LED lamps are therefore definitely more efficient than conventional incandescent lamps.
Apart from this, the ratings that indicate the lamps' effects on the environment are consistently better than those for incandescent lamps. As the efficiency of LED technology continues to increase, LED lamps will be capable of achieving even better LCA results in future.
Three independent experts are currently verifying the findings of the internal study. A summary of the study will be available in October at www.osram-os.com/life-cycle-assessment.