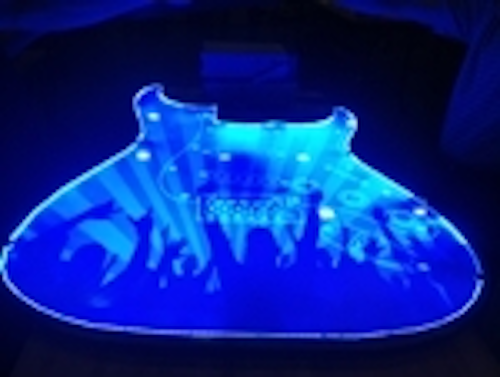 The Cleveland, Ohio Rock and Roll Hall of Fame launched its annual GuitarMania public-art project and charity fundraiser over the Memorial Day weekend with a variety of 10-ft replicas of Fender Stratocaster guitars put on display. Rambus is participating in GuitarMania as a sponsor this year, and company engineers designed their replica with an LED-lit body.
The Rambus guitar makes use of the company's edge-lighting technology and MicroLens light guide that were developed for planar general-lighting products. In the case of the guitar, the light guide is shaped similarly to the body of the guitar.
The engineers located 280 LEDs around the light guide. As you can see in nearby pictures, the LEDs provide a blue glow evenly distributed across the face of the guitar body.
Rambus noted that the LEDs would last for 25 years before needing to be replaced. Alas the guitar won't likely be on display that long.
The GuitarMania program is due to run through October 2012 with guitars displayed at the Hall of Fame museum and around downtown Cleveland. Corporations, celebrities, and local artists created the guitars and the program will end with an auction. United Way, and the Rock and Roll Hall of Fame and Museum's education programs will benefit from the program that has donated $2 million in the past.