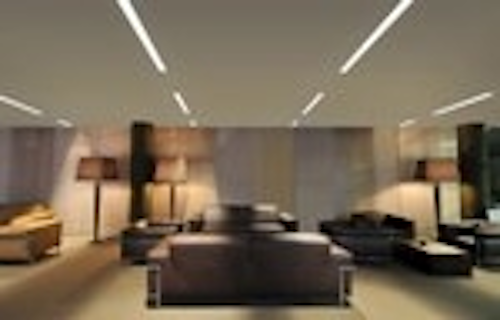 Philips Ledalite, a Philips Lighting brand, has launched the TruGroove family of recessed linear luminaires designed for installation in drywall or dropped t-grid ceilings. The series includes LED and fluorescent models, although it's the solid-state lighting (SSL) versions that achieve 69 lm/W efficacy. The company's MesoOptics technology precisely controls the beam pattern.
Ledalite offers the products in 2-, 4-, and 8-ft lengths, although the product is designed to seamlessly support longer runs with no socket shadow. Ledalite lists target applications including offices, classrooms, libraries, retail, and medical facilities.
"It's challenging to develop a product that is not only beautiful and energy efficient, but also functions without any compromise to light quality or performance," said Don Jacklin, general manager for Philips Ledalite. "This new TruGroove family of products is a true winner on all fronts – an exceptional LED narrow aperture product, easy installation for contractors, and a wide variety of choices that will give our customers the flexibility they need to create the right solution for their application."
Ledalite has used the MesoOptics technology previously in other products to ensure both precise beam control and efficient transmission of light. The technology relies on optical nanotechnology that is 5 microns thick and that is applied to a diffuser substrate.
The holographic microstructures in the optical element can create various beam patterns such as the batwing pattern available with the linear products that focuses the light rays within 45° in each direction relative to the linear axis of the fixture. Ledalite says that the MesoOptics eliminates back scatter, produces an even distribution, and delivers optical efficiency of 85-90%.
The TruGroove products are also compatible with Ledalite's daylight harvesting sensors that the company says can cut energy usage by an additional 35% Moreover, you can also use the products with the Airwaye wireless control technology that uses energy harvesting to power the sensors and switches. Solar harvesters power the sensors while kinetic energy generated by a depression of a wall switch power the wireless radio in the switch.