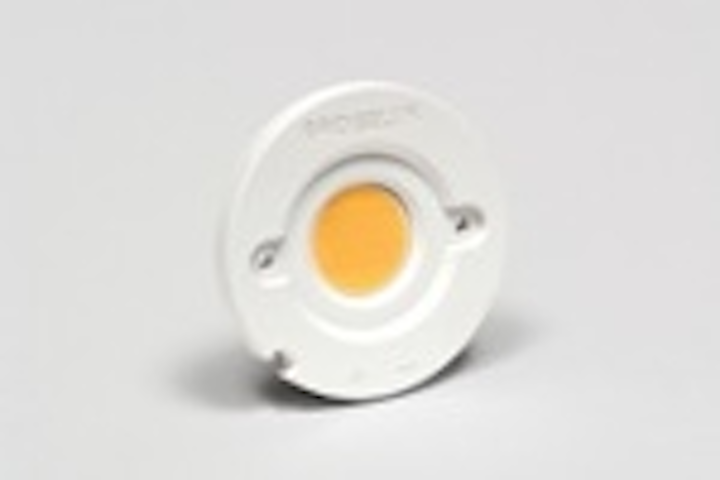 Bridgelux, a manufacturer of LEDs, arrays and light modules based in Livermore, CA, has introduced a high-flux-density light engine based on its ES products, the Cetero Spot Light Module (SLM). The initial product line will feature light outputs of 800, 1100 and 2000 lm with color temperatures of 2700K, 3000K, 3500K and 4000K, a minimum CRI of 80 and 3 SDCM color consistency. The company will demonstrate the module at upcoming Light+Building and Lightfair shows, with commercialization in late 2012.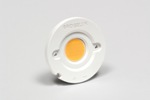 The module is designed for compatibility with an upcoming specification from Zhaga, the organization that develops standards to ensure interchangeability of light modules from different manufacturers. Among all the Zhaga standards, Jason Posselt, vice president for channel marketing at Bridgelux said, "It's the one we've seen the most customer interest in and also the most companies interested in bringing products to market, partly because of its simplicity." He added that this particular standard is primarily focused on interface compatibility, and is not as complex of some of the other standards. Zhaga standards specify standard optical, electrical, thermal and mechanical interfaces so that as solid-state lighting technology improves, installed modules can be easily upgraded via a plug-and-play replacement.
The standard for spot-light modules accommodates emitter- or array-based LED designs with external control gear. Module makers such as Bridgelux do not specify specific drivers for use with the product, but because testing has been performed with certain drivers during development, this information is made available to the luminaire manufacturers. "We submitted some testing results with specific drivers to get Zhaga approval, but if a luminaire manufacturer wants to use a different driver, they have that option. We will have multiple eco-partners, just like with our arrays," said Posselt.
Benefits for luminaire makers
As we have discussed in LEDs Magazine previously, with the modular approach, luminaire manufacturers can potentially speed time-to-market. Module use can also simplify design because a single module form factor can be used across a wide range of fixtures. Therefore, luminaire manufacturers do not need to maintain a large inventory of modules. "Bridgelux remains committed to providing customers with leading-edge LED technology in a package that simplifies their design efforts and reduces product development risks and costs," said Posselt. "We believe that working with Zhaga to help develop common standards will help pave the way for accelerated adoption of solid-state lighting technology.
However, the modular approach comes at a cost. While Posselt did not disclose pricing for the Cetero modules, he did state that while many customers of existing LEDs and arrays have expressed interest and are likely to switch to the modular approach, he expects other customers to continue to purchase LEDs and arrays. "For instance, the module has wire-cut connectors on it, while arrays require soldering. Some customers do not want to deal with soldering. On the other hand, when cost is the primary driver, a customer may not choose the modular option."
Module replacement cycles?
Although the industry often speaks in terms of replacing SSL modules when the LEDs reach the L70 lumen maintenance mark, Posselt points out that customers may have other reasons for replacing modules in the field. He stated that as communications, sensing and control options become more advanced, users may determine that module replacement is needed to upgrade to a new functionality, for instance. "You're going to see a lot more innovation before that 50,000 hour lifetime expires, so it's possible that light output alone will not determine when modules are replaced."