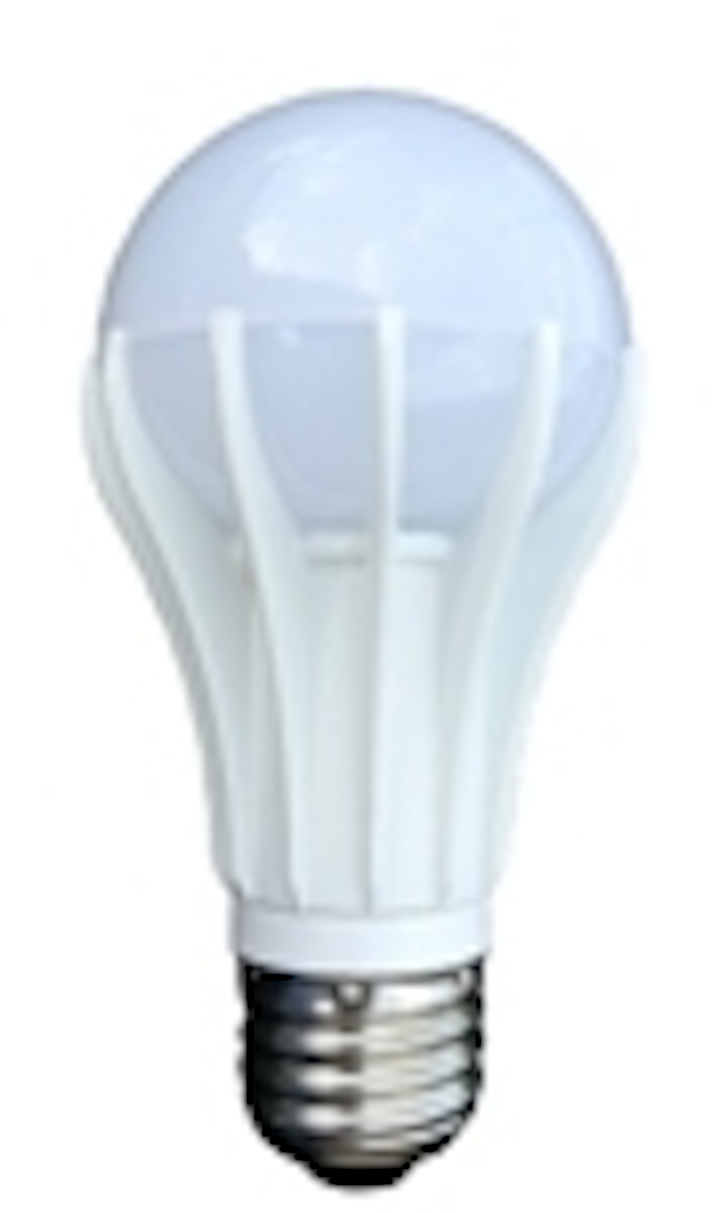 LEDnovation, a manufacturer of LED replacement lamps based in Tampa, FL, has introduced 75W and 100W comparable versions of its EnhanceLite Omnidirectional A-lamps. The LEDH-A19-75-1-27D-IO and LEDH-A19-100-1-27D-IO offer 1150 lm and 1600 lm output and require 13.7W and 19W, respectively, and deliver a warm color temperature of 2700K. The company has also introduced the EnhanceLite LED BR30 lamp for retail lighting, which features a CRI of 93 and light output of 680 lm at 2700K color temperature.
75W and 100W-equivalent A lamps
A lamps are suited for a variety of applications including table lamps, wall sconces, hanging pendants, ceiling lamps and other fixtures. The company will begin producing the 75W-equivalent lamp in November 2012 and the 100W-equivalent lamp in January 2013.
Describing the new lamp, Israel J. Morejon, CEO of LEDnovation, that the 75W-equivalent lamps meets the requirements for the ANSI A19 form factor at 4.4 in (113.3 mm) tall and 2.3 in (60 mm) in diameter, while the 100W-equivalent lamp meets the requirements of an ANSI A21 form factor at 5.25-in (133.3 mm) tall and 2.625 in (66.6 mm) in diameter. He said, "LEDnovation has found the point where beauty in design meets form following function. The flow of the sleek fins up the side of the dome effectively cools the lamp and provides a profile that simply makes sense. Staying very close in shape to a traditional incandescent lends an air of familiarity to the LEDnovation Omni. LEDnovation A lamps utilize a diffusing dome very close to spherical shape that results in bright, pleasant warm light that is distributed evenly over the entire white orb. In addition, the 75W weighs 3.8 ounces [108 g] which makes it the lightest in the industry."
In May of this year, GE Lighting announced a 100W-equivalent LED lamp that consumes 27W and produces a warm white with a color temperature of 3000K. This lamp conforms to the ANSI A21 form factor but will not ship until the first half of 2013. Philips has stated that it will begin shipping its 100W equivalent A-lamp with ANSI A21 form factor in the 4th quarter of 2012. That lamp produces 1700 lm and uses 23W of power at a color temperature of 2700K. Both Philips and GE have announced the lamps will carry a rated life of 25,000 hours.
The LEDnovation lamps will have a rated life of 50,000 hr and have a 5-yr warranty. Other specifications include a CRI>90, R9>90, power factor exceeding 0.90 and dimming to 5% on most dimmers.
Morejon continued, "Many times over our customers come back enthralled by the result of their energy savings. These savings are significant and stem not only from LED lighting but also a corollary reduction in the HVAC impacts due to the LEDnovation lighting retrofit. This results in a strong ROI that improves the bottom line."
Warm-on-dim BR30 LED lamps
The Warm Dimming LED BR30 replacement lamp mimics the behavior of incandescent and halogen lamps when dimmed. EnhanceLite LED-BR30-65-1-27D-IF utilizes digital dimming control, a trichromatic color solution and customized dimming profile algorithms to follow the blackbody Planckian locus with exceptional fidelity when dimming.
The lamps suit applications that require warm lighting such as track lighting, recessed ceiling lights, retail display lighting, and general household light fixtures. Targeted to restaurants, hotels, retail and residences, the EnhanceLite LED BR30 becomes proportionally warmer in color temperature as the lumen output is lowered. The EnhanceLite LED BR30 lamps will be produced in late October 2012.
The EnhanceLite LED BR30 lamp has a high CRI of 93 coupled with 2700K warm white color temperature at full power of 8.5W. The BR30 lamp has an output of 680 lm and an efficacy of 80 lm/W. It fits the standard ANSI form factor.
Morejon commented, "Our new EnhanceLite LED BR30 was born of our restaurant customers desires for warm dimming solutions. This allows our restaurateur customers to offer the same hospitable ambience while gaining the advantage in energy and environmental savings from employing LEDnovation technology."
With more than 25 times the lifetime of an equivalent incandescent BR30 lamp, LEDnovation's energy efficient EnhanceLite LED BR30 reduces the frequency of replacement, a critical attribute for reducing maintenance costs. The lamp comes with a 5-year warranty and 50,000-hr rated life.