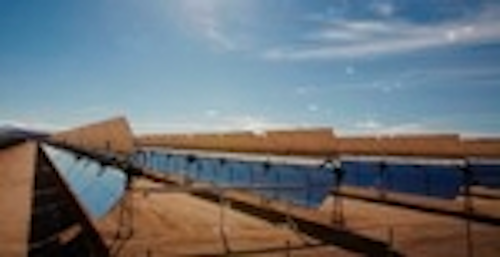 LED lighting manufacturer Dialight (LSE: DIA.L) has secured two major orders in recent weeks that emphasize its focus on supplying LED fixtures to challenging or hazardous locations. Both orders are for more than 1000 fixtures each, with one being for a solar-thermal power plant in a desert location, and the other being for an onshore drilling rig. The company has also introduced a 25,000-lumen high-bay fixture that comes with a 10-year warranty.
Order for US solar-thermal plant
Dialight will provide in excess of 1000 LED lighting fixtures for installation at a 250 megawatt (MW) solar-thermal power plant in California, US. The total contract value is approximately $400,000. The exact location of the plant is not specified but it is likely to be in or near the Mojave desert.
All of the plant's lighting will be provided by Dialight LED fixtures, comprising a total of 1050 LED Linear fixtures and 30 high-bay fixtures.
The lighting was specified by one of the world's largest engineering firms, following an extensive payback analysis. Given the remote location of the plant, the customer sought a highly-reliable lighting scheme, says Dialight.
Roy Burton, Dialight's group chief executive, said: "This order signals further penetration of the clean energy market and is a clear illustration of how our lighting fixtures can be used in the most diverse of environments. The durability of our lighting is clearly being recognised by major engineering firms as part of the specification process, and LED lighting is well placed to adapt to different conditions."
Order from US rig owner-operator
Earlier this month, Dialight announced an order to provide 1224 LED lighting fixtures to a major US rig owner and operator for use on eight newly constructed onshore drilling rigs. The total contract value, for a combination of Class I, Div 1 and Class II, Div 2 fixtures, is approximately $850,000.
The Texas-based customer placed the order following a successful trial of Dialight's LED light fixtures.
Burton said that there are a huge number of drilling rigs around the world with the potential for integrating LED lighting suitable for hazardous locations. "Dialight is particularly well-positioned to service that market," he said. "We are looking forward to securing more contracts of this nature in the future, for both new and serviced existing rigs, as the industry continues to recognize the considerable value proposition of LED lighting."
Burton added that Dialight is "rapidly expanding our operations and sales forces in regions such as Brazil, Eastern Europe, the Middle East and South-East Asia, among others, to take advantage of the opportunity in the oil & gas market."
Dialight debuts 25,000-lm DuroSite LED high bay
In related news, Dialight has unveiled the latest version of its
DuroSite LED High Bay 7
, a 25,000-lumen model designed to meet the high light output requirements of industrial applications. (please use the pic that is found at http://ledsmagazine.com/press/37027)
With an efficacy of 100 lm/W, the 250W LED fixture is a direct replacement for conventional HID and fluorescent fixtures. Significantly, it comes with a 10-year performance warranty.
Suitable for both indoor and outdoor applications, it is UL1598/A-certified for wet locations as well as CE-compliant and CSA 22.2-certified. It is also IP66-rated for use in outdoor and wash-down locations, and is rated for operating temperatures ranging from -40° to +65° C. The fixture features 6kV line to ground surge protection.
Dialight says that the fixture was designed from the ground up with a custom power supply to optimize both LED and fixture life. It uses the company's exclusive reflector-based optical design and toughened glass lens to deliver optimum illumination where it's needed and reduce light spillage on the walls and other areas.