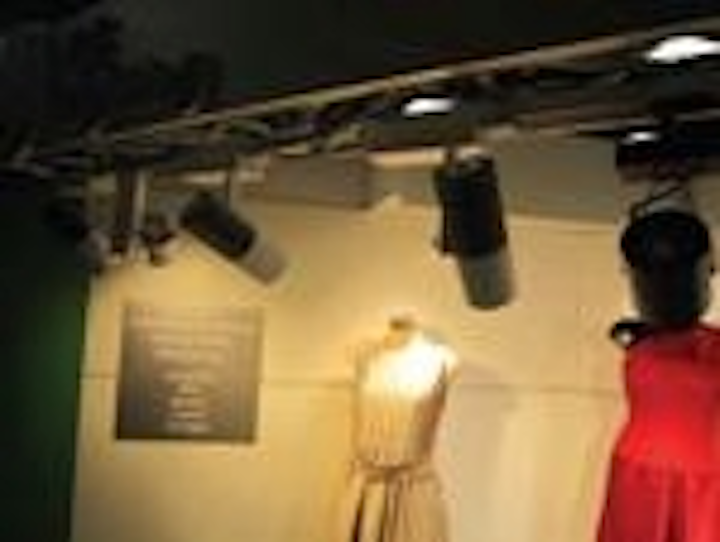 +++ Cover +++
The NRW parliament building in Germany is lit by concentric rings of LED downlights from Hoffmeister Leuchten that contain Fortimo DLM 2000-lm modules from Philips.

+++ Features +++
CONFERENCE REPORT
Strategies in Light Europe focuses on LED lighting and market transformation
Europe-wide policies related to solid-state lighting, as well as standardization, lighting quality, product labels and global initiatives, were among the many subjects tackled at Strategies in Light Europe 2011. TIM WHITAKER reports.
CONFERENCE REPORT
SIL Europe technology track focuses on design, from optics to luminaires
The technology track at Strategies in Light Europe featured several presentations specifically aimed at selecting the right materials, optics, drivers and luminaire designs to best take advantage of LED technology, writes LAURA PETERS.

STANDARDS
The elusive "life" of LEDs: How TM-21 contributes to the solution
The newly-introduced TM-21 document presents a method for lumen-depreciation projection based on LM-80 data, enabling LED lifetime extrapolations beyond 6000 hours, says ERIC RICHMAN.
LIGHTING
LED modules simplify luminaire designwhile Zhaga closes on initial specifications
LED-based modules for SSL can simplify product design and even make products field-upgradeable, reports MAURY WRIGHT. Zhaga standards will yield interoperable modular products from multiple vendors.
NATIONAL FOCUS
LED revolution advances in China with government backing
Despite some quality issues, China now leads the world in the deployment of LED street lights, and the country's next Five-Year Plan is expected to drive further advancements, writes PHILIP JESSUP.
CONFERENCE PREVIEW
Strategies in Light 2012 to highlight LED market dynamics
With the theme of "Navigating the Dynamic LED and Lighting Markets," the 13th annual Strategies in Light conference will be held in Santa Clara, California, on February 7-9, 2012 writes BOB STEELE.
DRIVERS
LED drivers represent a critical but confusing market
The LED driver market is characterized by complex and dynamic design issues, volatile pricing, varying degrees of integration and customization, and confusing terminology. TOM HAUSKEN makes sense of it all.
BACKLIGHTING
LED backlight technology offers promising choice for lighting
Edge-lit light guides with embedded optics can provide precise light control and high optical efficiency in general-lighting applications, say JOHN LANGEVIN and KENDRA DE BERTI.
OPTICAL SAFETY
LED-based products must meet photobiological safety standards: part 2
The potentially complex procedure of evaluating LED photobiological safety is now a legal requirement in Europe, but few countries have yet followed the European mandatory-testing lead. LESLIE LYONS discusses the implementation of the IEC62471 standard after an in-depth look at the measurement of radiance and irradiance.
Read part one of this article
LED PRODUCTION
Production testing of HB-LEDs and LED modules demands the right hardware and techniques
Cost-effective testing of LEDs and LED modules in a production environment can have a strong influence on manufacturing efficiency, as MARK CEJER explains.
DRIVERS
Matching driver design with LED backlight scheme optimizes energy savings
LED backlighting is a requisite for TVs to meet more demanding Energy Star requirements, explains GYAN TIWARY, and matching the driver design to the backlight implementation delivers maximum energy savings.
DESIGN FORUM
Analog technique simplifies LED dimming in portable applications
Products ranging from mobile handsets to LED flashlights require SSL dimming control, explains CHRISTOPHER JAMES GLASER, and analog implementations can offer better efficiency than PWM dimming in such products.
LAST WORD
LED industry tales from Taiwan
A recent visit to Taiwan highlighted a number of issues in the local LED industry, writes ELLA SHUM, Director of HB-LED Research with strategies unlimited.
+++ Columns/departments +++

COMMENTARY
European focus in a global LED industry

NEWS + VIEWS

LED highway lighting project in China features a million Cree LEDs

HB-LED revenue growth will reach nearly 10% in 2011

Bridgelux raises $15 million

Cintelliq releases OLED market report

PennWell acquires The LED Show

EcoSense closes $13 million funding

Osram, Acuity make acquisitions
FUNDING+PROGRAMS
EPA releases first draft of Energy Star Lamps spec

China unveils plans for incandescent lamp phase-out

LUMEN coalition launches website

DOE consortium publishes LED street-lighting guidelines