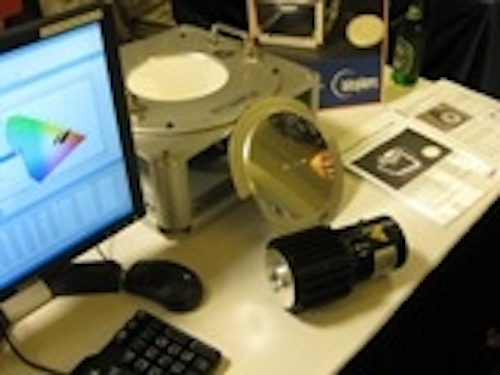 Coinciding with launch of the DOE's Energy Star criteria, the LEDs 2008 conference, held annually in October in San Diego, was always likely to have a strong component relating to standards. As described below, huge progress has been and continues to be made. The conference also benefited from some interesting discussions on the lighting marketplace — see Last Word.
However, most of the opening morning was given over to representatives of some of the leading LED chip manufacturers, who described progress made in recent years, and identified areas that need attention. George Craford of Lumileds and Christian Fricke of Osram Opto Semiconductors talked about results for power LEDs that were covered in our last issue (LEDs Magazine, Sept/Oct. 2008, p25). Craford said that Lumileds has improved the performance of single (1 mm2) chips by 22% since last year, while Fricke reported a 3x increase in the efficiency of blue LEDs in the last three years. Osram's ThinGaN blue has reached an optical output power of 600 mW at 350 mA (for a Dragon package with lens), corresponding to an external quantum efficiency (EQE) of more than 60% and a wall-plug efficiency of more than 50%.
John Edmond of Cree said he expected his company's blue LEDs to hit an EQE of 70% towards the end of next year. Reducing droop — the fall-off in efficiency at higher current density — is a target for all these companies. Edmond pointed out that there can be 10% droop even between 50 and 350 mA, so there are substantial gains to be made if this can be reduced or eliminated. Fricke spoke about design devices with lower droop, and how new multi-quantum-well structures have reduced the occurrence of non-radiative recombinations.
+++++++
This article was published in the November/December 2008 issue of LEDs Magazine.
To read the full version of this article, please visit our Magazine page, where you can download FREE electronic PDF versions of all issues of LEDs Magazine.
You can also request a print copy of LEDs Magazine (available by paid subscription) and sign up for our free weekly email newsletter.