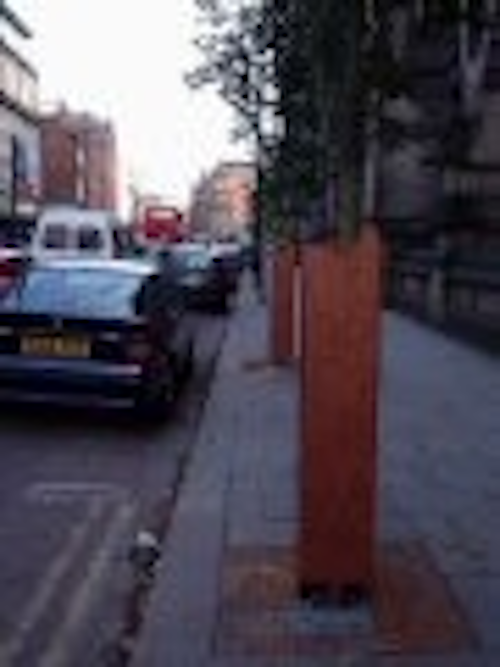 PLM Illumination Ltd has supplied several solar-powered LED lighting systems to the Green Streets Initiative in the city of Manchester in northern England. The program involves planting 150 mature trees along Manchester's streets, and illuminating the trees with LED lights.
The 25 trees of phase 1 are already in place, illuminated by PLM Illuminations' revolutionary and carbon-neutral solar-powered LED up-lighting.
The solar lighting developed by PLM was designed to complement the scheme and add subtle LED light to enhance the trees in the evenings without consuming energy from traditional sources.
The solar panels, positioned at the base of the trees, charge batteries during daylight hours and then power the energy-efficient LED up-lighters during the hours of darkness.
"Too often, lighting is used in landscaping with scant regard to issues like heat and energy waste," said Julian Ding, Technical Director of PLM. "The LEDs do not produce any heat which could damage adjacent flora and are virtually maintenance-free.
"The LEDs consume very little power which make them ideal for this solar energy application. With energy and carbon emissions issues prominent in today's society, this project is certainly exemplary."
Pyramid shines on Merry Hill shoppers
A glass pyramid containing PLM's colour-changing LED system has been situated in a new development area within the Merry Hill Shopping Centre in the West Midlands, UK.
The internal illumination is provided by over 800 one-watt high-power LEDs. By combining red, green and blue lamps with 45-degree lenses, PLM was able to effectively produce sequences of illumination with all the colours of the rainbow.
Control is provided by a one KVA power supply and a custom made 72-channel programmable control system designed and manufactured by PLM.
The concept of the pyramid itself came from local artists and pays homage to the nearby Glass Quarter in Brierley Hills.