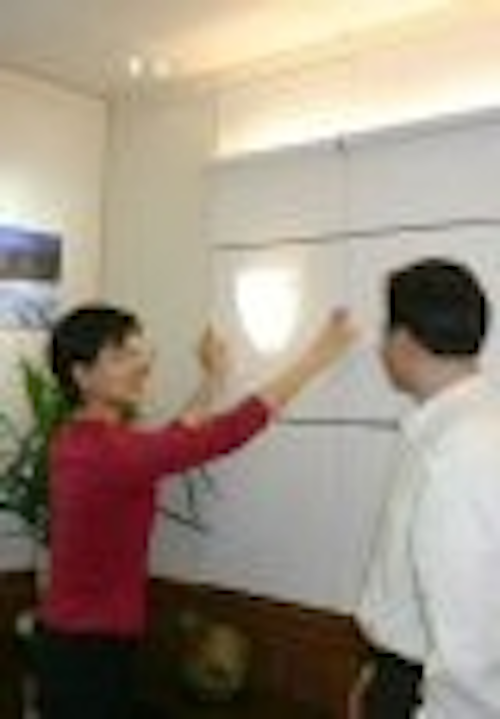 An LED industry alliance has unveiled a new concept for lighting homes and offices, which includes interchangeable, modular panels with integrated LED lighting fixtures that "snap" in and out of an electrical grid. Occupants can change the location of light fixtures or introduce new fixtures on a whim to satisfy their needs or their mood.
The novel concept for lighting homes and offices was developed by the Alliance for Solid-State Illumination Systems and Technologies (ASSIST), a US-based LED industry group organized by the Lighting Research Center (LRC) at Rensselaer Polytechnic Institute.
"The new concept represents a paradigm shift in the way people think about lighting and the way we build and design interiors," said Nadarajah Narendran, LRC director of research and head of the LRC's Solid-State Lighting Program.
The design team, led by Narendran and Russ Leslie, LRC associate director and architect, built a full-scale mock-up of an executive office at the LRC to showcase the group's ideas for adaptable lighting.
Rearranging the LED panels on the walls and ceiling in the room is easier than moving furniture, according to the researchers. There is no need to drill holes, patch drywall, call an electrician, or lay out the room according to where the electric sockets are installed. Once in place, the LED panels are controlled by a touch-screen LCD panel mounted on the wall.
According to Narendran, over the past 100 years, traditional lighting has acted as an add-on to spaces. LEDs, however, offer new ways to light an area. This rapidly evolving technology can be embedded into any type of architecture due to its small size, ruggedness, and long life.
"The transformation from gas lighting to electric lighting called for a quantum leap in infrastructure change, but people embraced the new system because the technology allowed for better lighting, flexibility, and a host of additional technological advances," said Leslie. "Our proposed concept is an equivalent leap in technology and infrastructure change, and one that promotes a 'tunable' lighting environment for improved vision, mood, productivity, health, and aesthetics."
Dan Doxsee, sales manager with Nichia America Corp, an ASSIST sponsor, said "The all-solid-state lighting demo room shows what is possible when lighting designers free themselves from the paradigm of Edison sockets and use the design freedom that LED technology allows for."
Makarand "Chips" Chipalkatti, innovation management leader with Osram Sylvania, also an ASSIST sponsor, said "In many ways, this recent design concept with LEDs is profound, as light can now become part of the architecture. In the short term, it may be possible to build replacement LED lamps to fill existing sockets and luminaires, but in the long term the very nature of construction and buildings will go through a change, the way it did during the transition from gas to electric lamps. To truly realize the full potential offered by LEDs in lighting and architecture, we must invest our thinking and resources in the area of new infrastructure and standards."