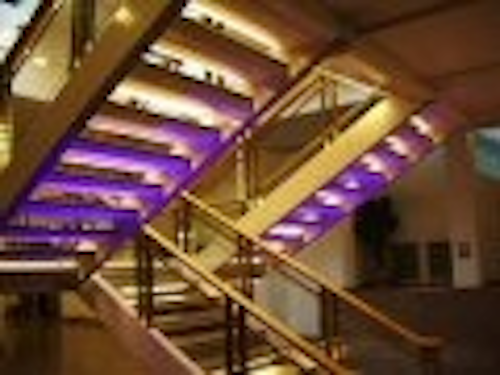 Cyberlux installs LED Emergency Lighting System
Cyberlux has installed an LED-based emergency lighting system in the Emergency Situation Room at Kings Park High School, New York.
The pilot program, funded through a $10,000 grant secured by New York State Senator John Flanagan (R-East Northport), demonstrates the potential to use LED solid-state lighting to prepare schools and other shelters throughout the county to provide assistance to communities in the aftermath of natural disasters, terrorist attacks, electric grid failures and any other calamity that can cause widespread electricity blackouts.
The Kings Park project was initiated by. Through a request from the Kings Park Board of Education and Superintendent Mary DeRose, Sen. Flanagan was able to secure a $10,000 technology grant from the New York State Legislature for the project.
"This project demonstrates how we can use the latest lighting technology to prepare for the possibility that severe storms like Hurricane Katrina and Hurricane Rita could strike here, with widespread power outages for days or even weeks," said Sen. Flanagan.
"We're excited about the ability to provide long-term lighting during an emergency," said Ed Hogan, president of the Kings Park Board of Education. "We are talking with officials about the possibility of installing Cyberlux emergency lighting in the gymnasium to provide sanctuary for our community during power blackouts."
The lighting system is based on Cyberlux's Reliabright Emergency Lighting System powered by a remote, constant charge battery pack that provides up to 80 hours of light on a single battery charge. The system is activated by a proprietary sensor system that detects a loss of power in the building's electrical system.
In a similar pilot project, Cyberlux installed a solid-state semiconductor lighting system in the emergency management "war room" for the City of Cleveland. The project was in response to the widespread power blackouts in 2003.
i-Vision sets Norway Alight
i-Vision has supplied Norwegian lighting design and installation company Oslo Lysdesign with a mixture of Lumos LED products for several high profile hotel projects for Choice Hotels.
In the Royal Christiana Hotel in Oslo, Oslo Lysdesign's Gier Ove Langlo illuminated the paths of sliding room dividers from below with Lumos in-ground Spots. Around the sides of the whole room, he chose to light from the top down, using 58 of i-Vision's Lumos 3 fittings as down-lighters.
In the foyer outside, he ensconced 26 Lumos 1200 mm LED strip fixtures into the roof soffits, to create a complementary "walk in" state for those arriving for events in the conference rooms.
Beneath the stairs in the foyer, a series of 6 x Lumos 3 in-ground simple colour change units are placed. The design is completed with ceiling-mounted cold white Lumos 3 units lighting the white frosted doors to the conference suite entrance. The same units are also used in an adjacent ante-room, effectively replacing all other white light with the Lumos units.
"I chose Lumos for many reasons," said Langlo, "It provided an ideal and very flexible method for changing the lighting settings and levels throughout, in addition to the usual energy saving and long lamp life attributes of LEDs." All the Lumos products featured at the Hotel Christiana utilise i-Vision's new Lumos Drive 216 driver.
Elsewhere in Norway, Langlo has installed Lumos fixtures in Bergen in a popular new club, Mood. The Britannia Hotel in Trondheim features Lumos 3 products with 60 degree lenses, used for washing walls and floors. Also in Sunne, Sweden, 43 Lumos 3s have been installed in the ceiling, illuminating the reception, plus 7 Lumos Flood 36s and sixteen 1200 mm strips for the stairs.
Permlight supplies LED lights for housing community
Permlight Products is working together with Brookfield homes to provide LED lighting systems for HomeAid and Fullerton Interfaith's new community being constructed to house the growing number of homeless families in Orange County, California.
The project, New Vista will be using Permlight's Enbryten Down LED recessed can light trims to light the homes being built. "We saw Fullerton Interfaith's 'Shelter by Design' as a great cause and a great application of our products," said Manuel Lynch, President and CEO of Permlight.
"Our low power and low heat products lend themselves greatly to a safe way of lighting homes. The long-term energy savings and cost of ownership of LED lights will greatly aid low-income families."
Many individuals and socially conscious companies like Permlight are working towards incorporating new technologies with affordable home construction to fill the need of homeless families in Orange County. LEDs are a sustainable and efficient addition to the New Vista homes.