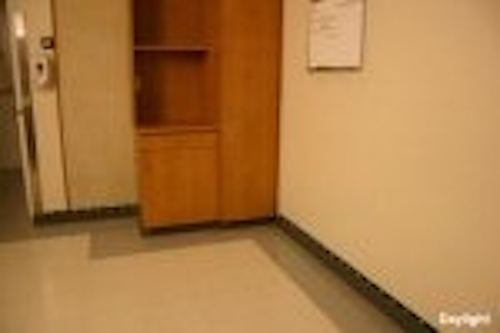 PrimeTech Consulting has installed its SafeTGlow LED-based fiber-optic lighting system in a hospital in the Anaheim Memorial Medical Center.
The system uses lengths of fiber-optic cable illuminated by standard 5 mm LEDs. Only 2 LEDs are required to illuminate 15 feet of fiber and only three LEDs were used to illuminate all the fiber illustrated in the photos.
A typical hospital room, including bathroom uses a maximum of 8 such LEDs. The system operates at 5V dc and 20 mA, and clearly has very low power consumption (0.8 W for a typical room).
Although the photos appear to show a series of individual LEDs, the points of light are actually emitted from openings cut into the outer jacket of the fiber.
"Currently, we are using this product in hospital settings as a night-time lighting system for the patients and nursing staff," says Soo Kim, Marketing Director of PrimeTech, which is based in Huntington Beach, California.
"The light is bright enough for the nurses to step into the room and check on patients without turning on the bright overhead light, but does not interfere with patients when they are sleeping."
The lights are placed in a tracking above the baseboard, and so are only visible to the patient when they sit up or get out of bed to use the restroom. Kim explains that SafeTGlow was designed to provide visibility as well as comfort for patients when they wake up in the middle of the night. The system can also be used as emergency lighting in case of earthquake or fire because it has a 9V back-up battery.
"There are many applications for our product including lighting for boats, homes and automobiles, but at this time we are focusing on the healthcare and residential market," Kim adds.
Anaheim Memorial Medical Center is the first hospital in Orange County to go live with SafeTGlow lighting, having recently installed the fiber-optic system in 60 rooms on the clinical observation unit (COU) and tower telemetry units.
Funded by an initial grant from The Anaheim Memorial Foundation, the new lighting system is designed to improve overall patient care and comfort, as well as to help meet the a goal to "reduce the risk of patient harm resulting from falls."
Anaheim Memorial is partnering with PrimeTech on the beta installation - the Huntington Beach firm will then work with hospitals in Orange County and nationwide to bring the advanced lighting system to patient rooms.